My Hero
November 15, 2011
"Sorrow comes in great waves...but it rolls over us, and though it may almost smother us. It passes and we remain." - Henry James

Whenever I think of my grandfather, I think of my hero. He was bold, hard working, caring, and loved everything. He went through a lot over the past years I had gotten to know him, but it only made him stronger. He quickly became my light, my star, my everything. I loved him more than anything in the world.
He didn't want to be the center of attention when he was alive, and now that he had passed, I don't think he would want us to focus on the sadness, and the guilt that is before us. He would want us to focus on the happiness in our lives, and on each other. Even though we miss him, he'll always live through us.

The memories I had with my grandpa, and the lives he touched, he'll always be remembered. He taught me how to do almost everything, ride a bike, swim, pull out my first tooth, and wake up at 6 in the morning to go outside and feed the animals, every time I stayed over there. Even though I thought it was torture, it was actually memories being made.

I remember a lot of things:

- My first time riding a 2 wheeled bike, he lived kind of up on a hill, and he stayed by my side until I felt comfortable enough to be on my own.

- Pulling my first tooth out, I was about 5 turning 6 and I felt that my tooth was loose so I ran up to him and he got some string, he tied one end on my tooth, and the other around the door handle.. He told me it wouldn't hurt, but I was still afraid.. it was a trust thing. He slammed the door shut and there went me tooth, flying. I didn't even realize it. I knew from then on, that I could trust him with everything.

- The animals, I remember waking up every time I was over there at 6 in the morning. He would let me carry a giant black bucket that would hold the food I would give to the cows.

Honestly I have no idea where I would be without him. I probably wouldn't be able to ride a bike, or be somewhat good at swimming; I probably wouldn't even like animals, or helping others. Another thing that my grandfather taught me was to do what you feel is right, and take pride in everything that you accomplish. He taught me to work hard, and never over think myself, to accept everyone for their faults, even if they're not "like you."

My aunt Michelle, my grandpa's step daughter, she told me over the summer that she found this journal that he had been writing in for quite some time before he passed. She found this quote, or poem that he had written before he died. It's originally longer, with more detail, but the jist of it is...

"Don't be afraid of the thunder, or the rain; it's just me riding the wind with my cowboy boots on."

When I read that, I immediately thought to myself "this is how I remember my grandpa", even though he was on the verge of death, he didn't show it, he only showed strength and I don't remember him ever complaining, ever. He was a strong man, he never showed pain, even though he knew, he knew; everyone knew and he didn't worry. I'm proud to call him my grandpa <3.

"You hang onto all of it; he'll come back in little blessings all your life. Angels give us gifts like that, sometimes you don't even notice, but they're there. He's here, talk to him sometimes when you're alone, he'll hear you, you'll hear him; you'll never lose him."- The Gift; Danielle Steel.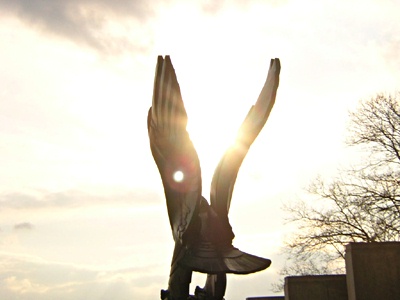 © Brittan S., Claremont, CA