A Hero's Life
October 25, 2011
Come into the life of a closet hero. He is not known around the world or hardly outside of his hometown and some surrounding cities but is big not only in my life but multiple others. DeanDack is not just a dad to me but a friend and someone I look up to. He has influenced me to be the person I am today and want to grow up to be. Dean is not only my hero but has also set his hook in both my friends and new people he meets everyday.
A leader is someone who takes charge and people want to follow. Dean influences people everywhere he goes. Being someone who went through the teenage "bad boy" stage but made a better life for himself, gives him some leverage with helping people going through similar things. Dean will most likely have more influence on someone that is getting in trouble and doing drugs than a loved one tryInget them to stop but has never been in their situation. He has a more laid back attitude about things and it's easier to talk to him about problems because of this. In 2007 our family took a trip to California for a family reunion. Many of our family members were doing the marijuana and getting in trouble. Dean talked to every person there and one person in particular, my cousin Jaslynn, he helped her understand that things she wadoingg wasn't getting her anywhere

2.





but trouble. She took his advice to heart, got out of trouble and now has a family. Dean is a leader because he is influential and has effectiveness.
What would superman be if you couldn't rely in him to fight crime? Being reliable can be very important when looking up to someone. Dean is a very reliable
person; he always puts others before himself. If you needed the shirt off his back, he would give it to you in a heartbeat. He is always there when you need someone to talk to and comes lightning fast in his bat mobile when you call. Awhile back there were two young teens that were having family issues and couldn't stay at their current home. Dean took them in and had them live with us for a few days until they found a more stable living environment. I swear that there is no one as reliable as Dean; he does what he says he is goIndo and doesn't let you down.
There are many different categories of a hero. Dean is a hero because everywhere he goes he influences people. A hero is someone people look up to and depend on to get them our of harms way. You can try and say that Dean isn't a hero because he is my dad but that has nothIndo with it. He may not be a Martin Luther King Jr who started the Civil Rights Movement but he is making a difference. Dean helps show people, who may be on a bad path, how they can have a better life for themselves. Dean has changed and impacted a lot of teens' lives. In America these days more and more teens and young adults are getting wrapped up in the partying life and he has been helping kids get back on the right track. Dean used to be a youth pastor about six years ago; he influenced a lot of the kids that came to youth group. It started off as a small but as time went on more people started coming and they brought their friends. At one point in time we had a
3.
school bus full of downtown Lansing kids which made a total of over fifty kids in the youth group in a small church. He influenced these kids so much that they would make their Thursdays free just so they could listen to his lesson that day. Dean helped change many teenage lives in Lansing. You can't necessarily classify a hero as someone who changes or saves the world but as someone that changes or saves someone's life.
While Dean may not have changed the world like Martin Luther King Jr or Gandhi, but he is changing the lives of others for the better. He is like superman -- reliable, strong, and a leader. I hope you see that he really is a hero. In the beginning of this paper you had no idea who this man was but now that I've turned on the light maybe you will see that it's not a closet he is standing in, but a showcase.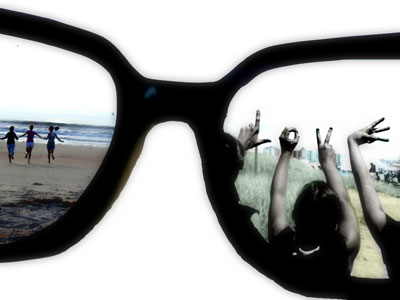 © Christina G., Bedford, NH