IInfluential Person
October 3, 2011
The person who has influenced me the most is my grandma. I called her Mimi. She was petite, skinny, with short black hair, glasses, and a soft and sweet voice. My Mom and I got our green blue eyes from her. She was the one who always had a smile on her face.

My grandma influenced me by her patience, gentleness, and humor. She was a very godly person. I rarely heard her swear, but when she did she always felt bad about it. When one of her grand kids was crying, she would hold them in her lap. Everyone loved her and she loved them back, even if they got on her nerves. My grandma was always in my life, not only because she lived next door but because she loved us. When my grandpa was sick, she took care of him until he died. I never got to meet him, but my mom says I would have loved his funny sense of humor. My grandma was very active. She would go on a few hikes in the mountains and went to the Grand Canyon with us. I remember every year we went to the beach she would always go on the slide, and at the end the tube would flip. Then one time when we were on the beach I wanted to go out in the ocean, but no one would go with me. Than when she said she would go, that made my day turned great. While out there a giant wave came, I jumped over it but she was a little too late, and it took her down. I could not help but laugh.

My grandma has made me a better person by showing me how to treat others. She should me how to be a godly person and how to handle tough situations. Always putting others first, I hardly ever heard her complain. She was the best grandma I could ever ask to have.
In 2007, she was diagnosed with pancreatic cancer. She went through a major surgery and chemotherapy, and when we thought she was getting better, she got worse. We were coming home from cheer when she called. She said she was not feeling well, and when my mom asked her questions she did not understand. From then on it just kept getting worse. She was forgetting things. A surgery was of no use; I was watching my grandma die. It didn't hit me till one day I was on the computer and my mom and Mimi were in the den. I heard her calling for me, when I came she started crying. She was making sure I was okay. That broke my heart just standing there holding her hand, when she was making sure I was okay while she was dying of cancer. While I was at cheer my friend, Devyn, her mom came and talked to my coach and said I had to leave. It was then I realized she probably died. It took thirty minutes to get home; finally when we did my dad came out and said that she had died. I was devastated; I never even got to say "goodbye" or "I love you." I felt bad for my mom and uncle. Now they don't have any of their parents. I didn't know why God had to take her so soon, but He did and I could not change it. Though I missed her I knew she was in heaven, cancer free, and with her husband. I will see her one day, and I can't wait. The ten years I got to spend with her were the best years of my life and always will be.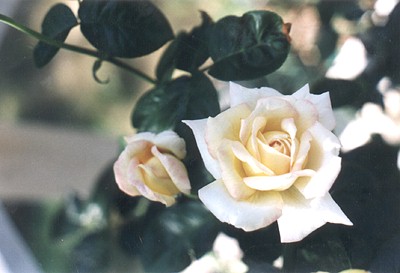 © Jacqueline S., Hanover, MA