Maybe Our Linked Taste Buds Made Us Best Friends
September 2, 2011
My dad's worried that I'm getting taller. "You're growing up too fast for me, little girl," he'll say thoughtfully, his nickname for me contradicting the words. "I remember when you were this big," he'd add, holding his hands about a foot apart. Then he'll make me laugh with ridiculous jokes about my height, effectively masking the understated sadness in the air. He can make a situation happier or less awkward or just more interesting.

Like the time that I was taken to the hospital with terrible burns on my legs. It had been an accident, but it was horrifying nonetheless. For the whole time we were there, my dad had told pointless jokes just to make me laugh; until then, I had been sitting on the bed in tense silence. My mom looked on with a glare that clearly said, this is not a funny situation. I, on the other hand, knew that this was not only the way that my dad helped me; it was also the way that he coped with his anxiety. If he had stopped telling jokes, he probably would've had a panic attack or a nervous breakdown. The jokes are just how he conveys his worries—that's just how he cares.

My dad's the kind of guy who will drive through three towns on a Sunday night, trying to find somewhere to buy a deck of cards, just because my sister and I want to play. (We can never find a full deck in our house; a few cards are always lost in the excitement of playing). After buying at least four decks, he'll stay up all night playing Go Fish with us until we can't focus on the game anymore. Then again, he enjoys the game just as much as we do, no matter what he says.

Maybe on the outside, my dad looks like a serious grown-up, but my family knows better. We know his secret. Evident from the way that he emphatically sings along to Usher and Akon in the car, and blatantly obvious from the juvenile pranks that he pulls, my dad is a kid at heart. He even has a covert candy stash that he hides from everyone— well, everyone except for me. Our genes probably inadvertently linked our taste buds and biological clocks. On several occasions, we end up waking up at the same exact time to head to the kitchen for a midnight snack. You'd think a person would get used to it after a couple of times, but not my dad; he's always startled to see me awake. "Why are you out of bed?" he'll ask in a disbelieving, serious tone. I'm never fooled by his solemnity. "Why are you out of bed?" I'll question him in the same exact tone. He laughs and shakes his head, accepting the fact that I wasn't going to go back to sleep until he was.

My dad's practically the definition of easy-going, but all the joking stops when it comes to matters of integrity. In my house, honesty isn't the best policy—it's the only policy. When I was younger and I quailed from the truth, he always found out in the end. The disappointment in his eyes was punishment enough (though it definitely wasn't the only punishment!). When this happened, we would lapse into a cycle of avoidance until he mulled it over and I worked up the guts to apologize without breaking down. He'd probably forgive me for robbing a couple of banks sooner than he'd give me his trust back. Eventually I would earn it back, and it was never worth it to lie to him in the first place. I learned that fact early on in my thirteen years— since then, you never heard, "That wasn't me!" or "I didn't do it!" from my mouth, unless it was the absolute truth.

If you look closely at my sister and me, you can see pieces of my dad scattered between us. Just glance at my sister's nose or the mischievous glint in my eyes when I smile, and you'll know whose kids we are. We also have his blacker-than-black hair and skinny ankles, but we seem to be missing the dignifying mustache. Also absent from our faces are the deep laugh lines that frame his eyes; they could have only come from myriad years of chuckles, chortles, and full-out roars. When it comes to stature, in my eyes, my dad doesn't have a definite height. When I'm in really big trouble, he can seem at least ten feet tall and extremely intimidating. He'll look down at you and ask a simple trick question—the kind you can't answer without getting yourself into even more trouble! Then again, when we're just joking around, he gives the impression of a lanky teenager who can undoubtedly understand my problems. He'll lean against a wall and patiently listen to me, ardently agreeing in all the right places.

Reflecting upon myself, I realize that I don't appreciate my dad as much as I should—or I don't show it as much as I should. Then again, true to the platitude, kids don't usually understand how lucky they are until it's too late. My dad loves me a lot—sometimes more than I deserve. Maybe one day I'll blow off my friends and just have a daddy-daughter night; I want my dad to know how much I love him. I want him to know that I'll always be his little girl.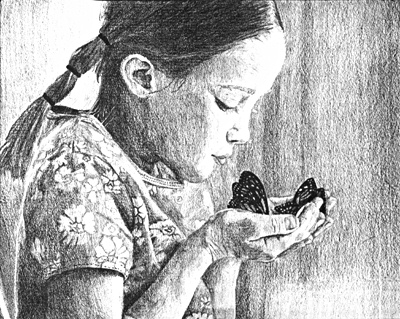 © Alina L., Holland Patent, NY