Amateur
May 20, 2011
I shivered from sitting on the ice cold concrete of my room. Piles of what used to be my carpet sat in crumpled, wet ruffles underneath my window. I was covered from head to toe in grout, mortar, and dirt. Despite knowing nothing about flooring, me and my mother had been tediously at work on my room for hours. Step by step pictures in books and magazines were the only thing we had to go by. In most households, the dad would be expected to do the hands-on, laborious jobs, but it's quite the opposite in the our home.

The year I started fifth grade, my dad left our cozy home in Cleburne, to go to Iraq. This left my sister, mother, and me without someone to claim the title of "man of the house." My mom never showed us that she was upset. Instead, she spent all of her energy consoling us by saying how brave our daddy was being, and that he was leaving because he wanted us to have a better life. Without any hesitation she immediately picked up both the roles of caring mother, and authoritative father.

Whenever we started repairing the house, it quickly became apparent that there are some jobs that were too big for even my mom. My sister and I offered to help with whatever task was at hand to lighten the load off of her. Our chance to prove ourselves came whenever our water heater busted, flooding both of our bedrooms.

The shriek of the tile cutter pierced through the house, deafening us and possibly our close neighbors as well. I wiped the sweat that was starting to bead from my forehead and put all my concentration into making perfect, straight rows of sand – colored blocks.

"Why didn't we just hire someone to do this?" My sister complained, slapping mortar on the underside of the tile, "We're just girls."
The tile cutter spun to a halt. "We're doing just as good of a job as any man ever could," my mom gestured towards the rows of straight, even flooring, "Don't let anyone ever tell you that you need a man to rely on."

While my sister just shrugged off the advice and went back to tiling, I'll never forget that. She's shown me through her iron will and determination to be self-reliant. She's taught me to not depend on other people for my needs and to be confident, proud, and strong. No two parents put together could have even closely matched everything that my mom has single-handedly taught me.

Now anytime I feel like I won't be able to handle the everyday stressors of high school life, I just spare a quick glance at my room. Those straight, perfect rows put down by untrained hands never fail to put a bit of pride and confidence in me.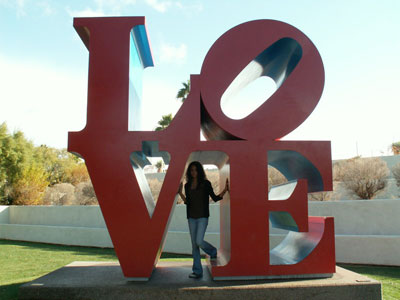 © Shannon E., Glendale, AZ