Everyday People
January 20, 2011
A hero is someone who inspires, takes risks to help others and overcomes personal obstacles. When most people think of heroes they think of famous presidents or actors or TV stars. But my hero is different; she doesn't live in Hollywood, but she is just another girl. If you walked past her in the hallway, you would think she is just another senior student in Indiana, but the truth is, she's an amazing person and my hero. Her name is Raine.

As a young freshman, I am tiny and I'm not as outgoing as all my friends are. I didn't really know anyone going into high school. I decided to join the Speech Club at my school to help me become more outgoing and it was a way to hang out with my friends, this is where I met Raine.

She always is willing to give something to others even if she is going through a rough time. When I struggled through a rough spot on the road of life, I knew I could talk to Raine. She didn't talk down on me because we're four years apart. She talked to me as if I was a senior too. Like a waterfall of love, Raine never stops giving to others. She has a special connection with people who aren't always easily understood as she worked her whole life at the Special Olympics even through the ridicule that has come. Through times of hardship, she doesn't give up or complain. Raine always knows how to find joy in someone's heart and can make them smile.

Since I've met Raine, she has inspired me to be a better person. She has helped me become more outgoing and cheerful. I want to have the beautiful character that Raine has. She has gone through a lot of personal challenges. That didn't change the beautiful hero she is to me.

I want people to know that heroes aren't just in books and just famous. Heroes are everyday people with hearts of gold. I also want to thank Raine for all she's done to inspire me and the others just silently observing.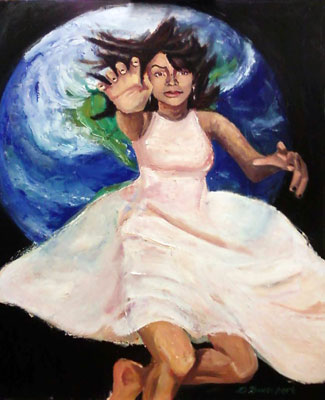 © Dominique D., Ozone Park, NY