Courier New's First Lipstick Queen
November 27, 2010
I once knew a girl who wore azure eyeshadow and had a voice like the Texas sun speaking. She was sweeter than a wild strawberry, emanating groovy James Dean vibes. Boy, that girl's soul could yawn out stories—feral, Technicolor, cherry concoctions of teen-age rage and lengthy, descriptive rambles of ciggy jitters with smoke curling up from beneath the protagonist's beehive. This girl's camel shag coat smelled like writer. Like Kerouac.

Soon after graduation she 'murried' and had a baby.

They lived happily ever after.



Still, I remember mornings in the black expanses of our classroom sitting next to my modern hero dressed in thrift-store castoffs, thinking she was a Literary Legend in the making. It was a secret we all shared. A clandestine worship of this fizzed blond.

She never knew, but I stole her font. Courier New. It holds some cosmic power maybe, or it just looks nice.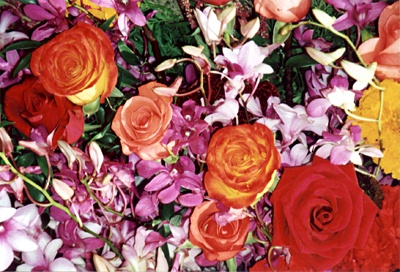 © Stacey L., New City, NY