My Daddy, My Hero
November 19, 2010
Growing up as a little girl seeing a big army man walk through my house in his 'ACU's' or uniform once or twice a month meant the world to me. Back then I never really knew the significance of having a soldier for a dad; I just knew my 'daddy' was a hero to me in more ways than one. As I got older he was someone to brag about, someone to look up to, someone I could say 'yeah, that's my dad and he is a soldier in the United States Army'.
Then over the years I started to realize the importance of my dad and what he meant not only to me, but to our country, our community, and his unit. To me, he was my 'daddy' the big army man that would protect me every night by reading a verse out of our bible and scare away the monsters. He was the one who always came home after work and had a hug waiting to embrace me with and wipe away my tears when I got my heart broken, and he was the one who was there when all I needed to do was talk to him. But then to our country he is a different man. He is the one they count on, they call on, and they rely on for safety, security, and assurance. Two different sides to the same man; different jobs he is expected to do, different roles he plays for different people, yet he has perfected them both greatly.
The army life is what I grew up around, what I have come to know and appreciate. Having my dad as a soldier has influenced my life in so many ways. I have learned about what it's like to be in a military family, different significances and little details that others wouldn't relate to, and the hardships of having your dad at war. The appreciation you retain for your country on a more personal level is probably the most influential though, for the fact that what you hear on the news and what you know in reality is happening during the war are two different stories…the minor details left out to protect society's thoughts and eyes. What you see on TV and what you know is really happening are two different situations; in the eyes of many and in the eyes of one. The public sees my dad as one of many, but I see him as many of one. They call him 'Sergeant'; I call him 'Dad'. For that, I will always be proud.
In conclusion, no matter whether it is an early Saturday morning sending my dad off to drill watching him drive off in those familiar ACUs that I always recognized as a little girl, or whether it is having his soldiers calling out for guidance on the battle field. He is one of many in the United States Army, but he is many in one to me. He will forever maintain the title of 'my influential hero' and will always hold the spot that has helped me gain the appreciation for my country.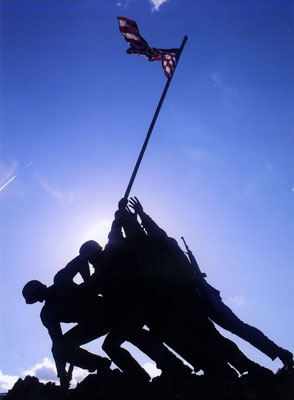 © James M., Glendale, AZ