My Hero: My Great Grandma Louise
October 25, 2010
My Great Grandma , Louise, is my hero. When I look at her I think, "This woman, she is 94 and still looks great." I always look back and remember her younger days, even though her younger days are a lot better.

Louise is the best! She has been supporting us at sports events, concerts, and school related things for 21 years and more. My Great Grandma has nine Great Grandchildren, they include Ty, Vince, Joe, Zach, Tony, Kenzy, Kassidy, Alisha, and Michael. Seven of her
Great Grandchildren have played football, but only three still do. Five have played baseball, but only two still do. Three play softball. Four were in track, but only one is still in it . Four were in band, but only one is still in it. Two were in choir, but only one is still in it. Four used to wrestle, but only one still does. She attends all of these events unless she is sick or it's too far away.

When Louise, Great Grandma, couldn't go anywhere or do anything was in 2009 in May through July. In the beginning of May she got her infected tooth pulled. After that she got Sepsis Poisoning and was in the hospital for 16 days. When she got out of the hospital she was sent to a rehabilitation clinic, recovering until July 12,2009. This whole experience took my Great Grandma's legs away, to the point where she can only walk super short distances, and put her in a wheelchair. My Uncle Bennie and two of his workers built a ramp for her so she can still go places.

This took a while but my Great Grandma went through all of this and in 2010 she is going to Pueblo, Co and The Mountain School to watch Joe play football. She goes to the stadium of Littleville High School, and more to watch Tony play football. Great Grandma goes to Fields to watch Michael play football. Great Grandma goes to Euphoria Middle School to watch Alisha, Kenzy, and Kassidy play softball. Great Grandma watches Zach and Michael play football. Great Grandma goes to Columbia High School to watch my band and choir concerts. She goes to all different high schools, and the Pepsi Center to watch Tony wrestle. Great Grandma also goes to a stadium to watch Tony in the Shot Put and the "Fat Man's" relay. You must be wondering if she has gotten her legs back, the answer is, we wish, but No. She does all of this in her wheelchair. She wheels through grass, on concrete, through streets, on elevators, you name it and my Great Grandma has wheeled through it or on it.

See, my, well our Great Grandma has been through thick and thin, on pins and needles, but she will NEVER miss a thing. She will always continue going to all of our special events. My Great Grandma is my hero, and she is the best!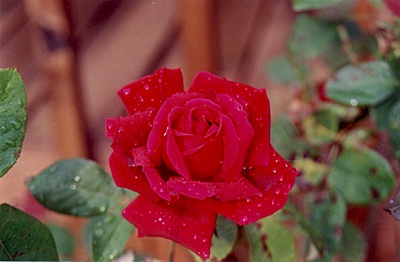 © Jami U., W. Hempstead, NY