PB & Saltines
October 11, 2010
She was always there to take care of my every need, she was a nurturing mother through and through. Summer had just begun- us kids were on our beach in the backyard when my mom brought us in for lunch and put on her serious face. We knew something was coming but unexpectedly my mom proceeded to tell us that she was pregnant. I vaulted across the kitchen and gave my mom the biggest hug I could. Everything I had ever read or watched on TV or seen in movies told me that this was a good thing and would be a happy time in our life. I wasn't prepared at all.

Flash forward three months. School has started and i'm officially a fourth grader. I loved being one of the big kids. As fourth graders we got to go to recess with the fifth and sixth graders, learn how to play the recorder and choose where to sit at lunch. Life was good. Past the first few days of fourth grade I don't remember much else. Reflecting on that year my memories usually are abstract and hazy at best, for most of fourth grade I tend to come up blank. Especially with events that happened outside of school. Comparatively there are some moments from that year that remain as fresh in my mind as the day they happened. For whatever sub-conscious reason I lack a lot of transitional memories. All I can say is one day I remember showing my mom around the classroom at back to school night, and the next thing I can recall she has been in the hospital for weeks.


I visited nearly every day after school and slept over whenever my mom would allow me. There was a rollaway cot permanently set up in the corner of the room for me and my many sleepovers. My mom was lonely and enjoyed my company whenever she was awake, as her sleeping hours were constantly fluctuating. Despite her severe pregnancy induced illness my mom still worried about me. She worried that I wasn't getting enough rest, at night the nurses would check-in every 45min to change her IV bag or taking note of the various machinery she was hooked up to, often the beeping would wake me up. She was right about the rest, every few nights she would send me back to our house so I could sleep in peace.

I was young and naive, as I am quite sure that most nine year olds are. Even though this was a chaotic time in my life I didn't understand how different from other children I was. I just assumed that my life was typical. In hindsight I have learned that typical children don't spend their days at school and nights at hospitals. I have learned that typical pregnancies don't result in flesh eating bacteria infecting an open heart line. It turns out that typical moms don't rely on their nine year olds to hold a pail for them to throw up in, on an hourly basis. Who knew? Not me.

It wasn't all needles and fear though. In fact an absolutely endearing memory of my mother revolves around that year, the hospital, peanut butter and saltines. The only schedule I followed during that time was who was picking me up from school that day and taking me to the hospital. But one of the nights I spent in that hospital room we created a new tradition to add to my schedule and in the process discovered the ultimate midnight snack. peanut butter on saltine crackers. Over the weeks it soon evolved into a bedtime routine. Every night before I left or went to sleep I would hop up on the hospital bed and spread a perfect layer of peanut butter on each saltine cracker. Most nights my mom was too ill to eat them but that was no problem to me, I was just happy to be with her.

One blustery winter day I was dropped off at the hospital and as I was riding the elevator up to her room I started to cry. It had been a rough day at school; my friends formed an exclusive club without me, I slipped on ice during recess and I did poorly on the spelling test. Of course by the time the elevator doors opened I had composed myself and set off to visit my mom. She was doing okay today, she wasn't extremely nauseous and she was awake. She asked me about my day at school and as much as I tried to stifle the tears I crawled into the bed next to her. She smoothed the hair out of my face and calmly consoled me with cool, level voice. My heart didn't feel so burdened and the tears rapidly dried up.

So maybe I didn't have a typical childhood but thats only because I don't have a typical mother. She is extraordinary and far more then typical. She was and always has been my greatest hero in life. From my first bike ride to first heart break she has been there for me. I don't think I will ever be as selfless as she is. I can only look back on all the memories I have of her with gratitude. Grateful that her example has taught me so much about being a genuinely giving person. Thanks Mom, for consistently putting my needs first even when you had so many challenges of your own. Thank you for being my hero.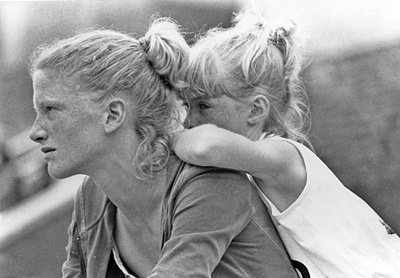 © Felicia F, Marlow, OK