Anat Gori
July 11, 2010
Israel is not an easy place to live in- a natural born citizen alone deals with war, political conflicts, and extreme religious differences. Although I was born in Israel, I moved away too young to adjust to the confident, aggressive, and independent personality that is a must in the area. It was worse for me when I moved back to my birthplace at age eight- from the clean, calm, organized, and ultimately perfect island of Singapore. Because of my Dad's job, I was thrust into Singapore's polar opposite, to a place where if people had a problem with you, they'd let you know; to a place where assertiveness was the key to success. As for the physical aspect of it, my condo by the East Coast beach in Singapore was a paradise when compared to the crippled, yellowed apartments and dry vegetation that was my new home. Despite all this, one main person made me love the place as much as I did at the end of the years I lived in Israel. Her name was Anat Gori, and she was my 5th grade teacher.
I moved schools three times within the first two years I lived in Israel. Pure culture shock along with problems adjusting gave me a pretty bad impression of the semi-rich town of Ra'anana in which I lived. I finally went to Dekel Elementary school in fifth grade. Anat Gori was my teacher. I didn't have much and opinion of her in the first day. As the weeks went by, however, I realized something incredibly frustrating. Anat never spoke to me in English, not once, and my Hebrew was barely fluent. In my old schools, teachers would let me work in English, so my grades would reflect my true level of understanding. Not Anat. Though she helped me understand words I didn't understand and was patient with me, she still graded me strictly. Soon I noticed a major improvement in my Hebrew, and how it came to me so naturally. Another thing that made me have a great impression of Israel was that within two months, I had established a best friend in Dekel. Her name was Gal, and she was new too, but fully Israeli. At first, we both thought the other person was painfully shy and reserved. After hanging out a bit after school, we soon realized that neither of us ever shut up. We both loved literature, cartoon drawing, and complaining. We both were responsible for younger siblings. Gal and I were exactly alike. Anat, I believe, is accredited with our fast bonding as well. If she had been lenient with my Hebrew and treated me differently, it would have separated me from the class. But since I had a dramatic up soar in my Hebrew, I was able to fully communicate with my peers. I even learned Israeli slang, ('Ya'allah!' meaning 'Oh My!' or 'Sababa' meaning 'great'). My 5th grade year quickly became the best in my life, complete with a great friend, an understanding teacher, and the fact that my mom was pregnant with what would be the cutest little boy in the world.
Teaching in Israel is one of the hardest jobs an Israeli citizen can apply for. The salary is one that barely suffices to pay for basic expenses, and since so much tax money is devoted to war, the supplies and order in Israeli schools are far from abundant. To teach there, you really have to have a passion for educating other kids. I noticed that Anat was frustrated that she couldn't teach to her fullest extent. Still, she tried her best to educate her students in all the subjects that were important to success. I started to really appreciate Anat, not just for being a good teacher, but for making me feel confident in my work and myself.
In March, my father got a job offer in Colorado that held too many opportunities for him to turn down. When he announced that we would move to America, only excitement crossed my mind. I had visited America a few times to see my grandparents, and the largeness and modernity of it only thrilled me. This was America, the gigantic plot of land that I knew much about as having significance in pop culture, politics, food, and entertainment. I couldn't tell Gal until it was 'final.' I think Gal was upset when she found out, but she celebrated with me. Together, we made our last few months be packed with sleepovers, movies, and outings. During this time, I began to value things much more, including Anat, who had increasingly become patient, understanding, but still strict and tough. During parent teacher conferences, Anat went over both my strong points and weak points in academics, and then she started praising me. I forget about what, but I remember suppressing a smile. It would be too embarrassing to show how happy her praises made me. Anat was a smart woman, eyeing me the whole time during the conference. Finally, she said: "You can smile! You deserve it!" I love this memory of her, because it made me realize that why not show how I am proud of myself?
Near the end of the school year, Anat helped Gal in organizing me an album with pages of messages that my classmates wrote to me that I would have as a memory when I moved to America. The album was beautiful, and the messages my classmates wrote were very sincere and wonderful. My favorite letter, even better than Gal's, was Anat's. It was glued to the front page of the album, in curly font and blue ink. She wrote to me: Dear Sharone, You have strength you could never believe existed. You can do things that you wouldn't believe yourself capable of doing. There is no limit to your ability; there is just a limit that you put onto yourself. When you think about what you can't do, don't think that you can't. Always know that you can succeed. Those words are one that I cannot forget. It is what reminds me that the credit I give myself for what I do is less than that I really deserve, and that if I take risks and strive for what a really want to be and do, I can accomplish all my dreams. When school ended, I made a plan that if I visited Israel soon, I would make it a point to visit Anat. She was such a significant part of my love for Israel, I couldn't just forget her.
Two and a half years passed. I hadn't visited Israel yet, but I was bugging my dad with every opportunity to take me there. The transition to my new school was easy. I knew English perfectly and established a group of friends. And so I went through 6th, 7th, and half of 8th grade. Sometime during last winter break, I was typing instant messages to Gal on Facebook. Two and a half years later, we still made an effort to talk often. Gal and I went through our usual routine… asking how each other's siblings were doing… ranting about schoolwork… me whining about the snow-packed ground, her complaining about the warmth and drought that was a problem in the Israeli climate. Somehow, we stumbled onto the topic of Dekel Elementary School… about teachers. About Anat.
"Sharone. She died."
The words appeared as casually as another message on facebook did. And the meaning of these words really took me by surprise. At first, I didn't believe it. My reading in Hebrew became poor, my grammar perhaps worse. What I understood couldn't have been what I had read. Not about Anat, At least. I held my breath while typing the words of conformation, hoping that I had just made a stupid error in Hebrew.
"Anat died?"
"Yes. 5 months ago." My heart sank, my eyes filled with tears.
"From what?"
"Cancer."
At the time, I was talking to another classmate on Facebook about 'who asked who out' and 'which actor is the hottest.' And while I easily responded her messages with 'LOL'S' and 'I'K's!!!', my hands lingered over the keyboard as I spoke to Gal. I couldn't form my thoughts into words, and I quickly logged off. The night that I found out about Anat's death, the general motions of the evening …eating, showering, reading, felt like a painful chore. I had never dealt with the death of someone I was close to, and I realized that the description of grief truly, is, a physical pain. It felt like someone just slugged me in the gut. My hatred for Cancer grew exponentially. I have had multiple deaths in my family because of cancer, and I know people who are battling it right now. It isn't just that cancer kills, which is a reason enough to hate it. Death is so inevitable, so easy; I have learned to accept it as part of life. But cancer is a demoralizing death. It makes you feel weak and powerless. Chemo is a treatment that destroys you from the inside out, killing the healthy parts of your body to destroy the bad. And for the physical aspect of it, who wants to die bone-thin, bald, with all the life and color out of their eyes? Who would want anybody to remember them like that? I am not sure of the situation of Anat's death, but, if the cancer was serious enough to kill her, I imagine she looked very, very, sick. This is the most disturbing part. I cannot imagine my teacher, who was quite pretty and always healthy looking, appearing so horrific. I don't want to.
I don't believe in an afterlife. When you die, I think the life in you is just… gone. That being said, there is a certain part of you that I believe lives on. As cheesy as this sounds, I feel as though the goodness you contributed to the world will continue thriving. Although Anat will never laugh, praise, and teach, she is living through her family and me. Her children, I am sure, will grow up to be really good people because they were raised by her. As for the part of me Anat is living through, it is in the confidence I acquired and the love I have for my nation. To be honest, this essay made me feel bad all over again. It made me miss her a lot, and regret terribly that I had never kept in touch with her. This being said, I find it really comforting that she had a family that I am sure was by her side in her final days, and that there are kids out there who liked her as much as I did. What is most important is that she is remembered. And I am positive that, in a good light, she is.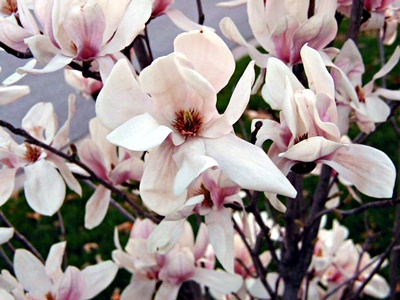 © Brad H., Lemont, IL