Ten: Based on a True Story
July 3, 2010
Most kids, when they're young, are told that they are "one in a million". It doesn't matter what it's for, they believe it. It could be becoming a singer, actor or dancer, or becoming president one day…they believe that they are something amazing. But do they really know what it means to be "one in a million"? Do they know all of the pain and struggle that comes with the title? No. All they know is that they're special to someone in the world. To them, being one in a million is just a dream. For some it comes true. But one in a million isn't always a good thing. Take Heather for example. Heather was definitely "one in a million". But she didn't want to be.
From the time she was born, Heather was a sweet girl. With a beautiful smile, she could brighten anyone's day with just her presence. At work, she was the one who would greet you every morning, grinning from ear to ear and that would be enough for you to make it through your day. She was a friend, a mother, a daughter, and a mentor and no one ever expected her to be as lucky as she would soon become.
As Heather began to get older and older, she had a lot of medical problems. Frequently she would get migraine headaches and also had bipolar disorder on top of it all. She took medicine for everything that would come her way just to get through the pain and make it to the next day continuing to smile. But all medicine comes with side effects and Heather's, could potentially cost her her life.
For a couple of days last year, Heather began to feel ill. Her husband, Don, took her temperature to see if she had a fever and when he looked at the thermometer, he thought it was broken. There was no way that Heather could have a temperature of 109 for you begin to die at 106. Don knew that this was bad and immediately rushed her to the hospital, leaving her five children to only wonder what was happening to their mommy. "What happened to Mommy?" was the first of many questions that this family would encounter for the next year.
Once at the hospital, the doctors ran numerous tests to try to come up with a solution as to why Heather was literally burning from the inside out. Her body was covered in blisters and she was placed in the Burn Unit of a hospital two hours away from her family and finally they came up with the conclusion that Heather had TEN (Toxic epidermal necrolysis)—a severe case of Stevens-Johnson Syndrome in which only thirty percent of the people diagnosed with it survive and it was caused by the reactions of Heather's medicine. Heather was then placed in a medically-induced coma then all anyone could do was give her medicine and wait.
"Oh, Lord, I pray for Heather's health to return. I want her to smile at me again and laugh and tell ask me how I'm doing. Please, Lord, make the pain stop. Amen." Every day, someone would utter that prayer and hope that God would answer it. They wished that Heather would one day just wake up and everything would return to being the way it was supposed to. They wished that Heather would be part of the thirty percent that survived TEN. They wished that Heather would be one in a million. Even the non-believers in God and Jesus Christ would start praying. If Heather survived this, there was a God and if she didn't, God was a fairy tale.
Months went by and Heather did not get much better. The doctors knew that if they were to take her out of her coma, she would be in excruciating pain. Heather's daughter, Clarissa, went to her class and they all made her get well cards. "It's not fun being sick. Especially so close to Christmas," one of the cards read. But Heather would not receive those cards until she woke up (if she ever did). The only thing Heather could possibly know was what she heard while at the hospital.
Many more months passed and the doctors would continually check the status of Heather's condition. Every day, the blisters would appear to be better yet every day scars would form wherever she was burned. Eventually, though, she got better to the point where she could move back to the Burn Unit of the hospital close to her family and the kids got to see their mommy.
A few months ago, though, something extraordinary happened: Heather woke up. All of her friends and family were crying when they heard the news. Someone like Heather could survive TEN, that they knew, and all of the non-believers in God and Jesus now believed. But Heather could not go home yet. Her body was covered in scars, she lost a huge amount of weight and she was now virtually blind but she was a spunky as ever. She didn't remember the TEN but she could just as easily talk about it as if she did.
But Heather waking up is not the end of my story. Heather and I worked together from time to time when I worked during the summer. If you still don't believe something amazing like this could ever happen, now's your chance. A few days ago, my sister calls me from her desk at work and tells me to come to her desk so she could tell me something. I get over there—expecting it to be about ordering lunch—and she whispers, "Heather's coming to visit."
At first I didn't believe her (I was still under the assumption that she couldn't even walk anymore) but when I turned around, a huge crowd was gathered around a tiny woman seriously protecting herself from the sun. It was Heather. Everyone around was crying, unable to believe their eyes as she went around the room and hugged everyone, asking them how they were. But when she got to my sister and me, at first she had no idea who we were. She lifted the baseball cap up from out of her vision and looked at us with her bloodshot and swollen eyes. "Who's that?" she said, sounding like she always did, and then she laughed and said, "It's the Daniels." Everyone laughed and she embraced my sister and me in a hug and we smiled for Heather was truly "one in a million".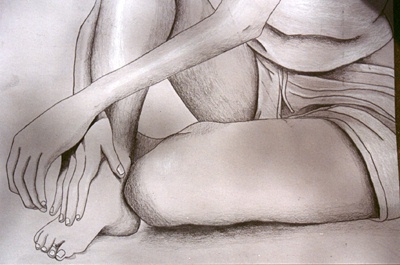 © Omar M., Phildelphia, PA