My Irreplaceable One in a Million Hero
June 14, 2010
Everyone says a hero is that one person you admire, the one person who means the world to you and more so, the one somebody that you can always count on to be there for you. Me? My much loved grandmother, who recently passed away, is my true, one in a million, personal hero.
My grandma, Florence Willard, was born on June 21, 1932. At that time our world was suffering the Great Depression. Tough times took its toll on her family. My grandmother grew up, finding that life wasn't all that bad and the Great Depression wasn't everlasting.
A love for animals had always shown in my grandmother. Although animals can't speak, they can represent one's love for another. Before my grandma died; her cat was stubborn and never played. Today, her cat is as lovable as ever.
My grandmother and grandfather married and had 4 daughters; Quite a handful? My grandmother held on tightly. One of the lessons I've learned was exactly that. My grandmother endured many years of arthritis during her life. She inspired me to stay determined and never to give up. The arthritis worsened as she aged, and became Rheumatoid Arthritis, crushing her bone structure. My hero also fought about 15 years in remission for non- Hodgkin's cancer prior to her death. The word cancer never stopped her; thankfully she conquered that battle too.
Day one came, I was born; and my grandmother was by my side. Lifetime memories were already being made. The day I was born, my grandma had fallen and broken her hip. Coincidentally, her room sat 2 floors above mine. Furthermore, my grandma was there for anything. She and I stood through thick and thin.
"In order to get anything you have to give." Something I'd learnt from my grandma; made me who I am today. My grandma did everything she could to help, encourage, and give me support. I believe that's what a hero is about, someone who will help you through anything; and that's what my grandma was.
February 20, 2009, the day my grandma died from kidney failure, my heart shattered into a million pieces. It was unreal my hero was gone. I never got to say goodbye, although I know that she'll always be "up there" watching over me.
Since the day she passed little things have changed. Blue jays, birds my gram loved, now fly above while we're outside. A necklace my grandma cherished, hangs in my mom's car; to symbolize her. My grandmother's ring sits upon my finger everyday; reminding me to stay strong and to believe in myself like her.
In the end, my grandma battled severe arthritis and cancer never giving up; and neither will I. Somebody once wrote "Grandmas hold our tiny hands for just a while, but our hearts forever." My hero showed me what life is about; all I have to do now is live it myself with my everyday hero above me.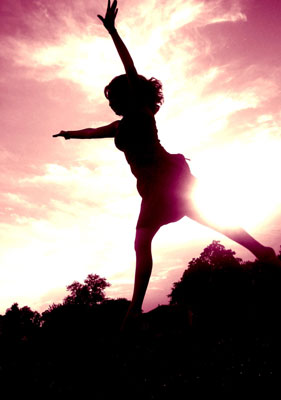 © Martha V., Morton Grove, IL