If your reading this,I'm already gone
May 24, 2010
It's hard to say i love you when you aren't here. It was the summer after my 5th grade year of school. My father was in the army, the blood thirsty battle mission that had seperated us for a year. I never thought the day would come, when I had to say goodbye and that I would see him in a year. I could feel my heart tremble at the fact of I did not know if he would come back alive.

The army had called him to a mission, that would aquire him to fight for our country.A mission that only allowed the men and women that believe in our freedom and that we shall not be trampled on. They fight for every American's rights. Even you and I, but why my father? Why not their father or even a criminal mind who committed such hatred? Send them over.

All I can say, is that I write you, hopeing you will return my love sickned need to hear from you. You are my hero, my guide, and my outlooker who watches over me.I hope that with every word you write, your heart will beat the same rythm as mine; with every letter I pray it will not say, if you're reading this my angel, I'm already gone.

To hear that,would make our family fall into pieces. Crumble as if it had no structure, but would eventually mend together again. It would eventually get better, but would take time for our hearts to recover from our heartache, but I know you are tough.

I tell them as you leave,why him? My father. All you can say is everything will be okay. With everyday,take it one step at a time. No matter if I am there or not, your life will go on. Just be strong for me, and I promise I will never write you a letter my child, that says I'm gone.

As I listen,I tell him, dad you are my hero, my American soldier.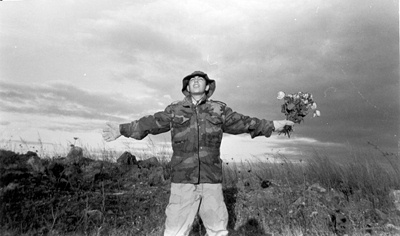 © Sarah R., Marblehead, MA