Forever and Always
April 13, 2010
When you hear the word "hero", who is the first person that comes to mind? Well for me it's a person who is very important, means the world to me and is my best friend. That person is my big sister Sophia. All my life I looked up to her and thought of her as a great sister. Even though we fought, like most normal siblings do, we still loved each other.

"Mom, I need to talk to you." my sister said in a rather worried tone. "Honey, you don't have to say it. I already know." My mother responded. "You know?" "Of course I know. I'm your mother, remember?" Before my mom could start the next sentence, my sister embraced her and let her tears go. I wondered to myself what was going on as I silently watched through the crack in the door. I forgot to mention she kicked me out of the room before she started talking to mom. Yes, I was guilty of spying but who wouldn't spy when their sibling is getting in trouble? Haha I sure do. Later on that day, I found out what all the commotion was about. My sister was pregnant. I couldn't believe it, my A-B honor roll, seventeen year old sister, was pregnant. Like they say, "everybody makes mistakes, everybody has those days." Well at least that's what Hannah Montana would say.

"Michelle I'm so sorry! I know I'm not setting a good example for my baby sis." Sophia said apologetically. "I am a little disappointed in you, but I know we can make this work, Everything is going to be okay." That is what I wanted to say to her, but the only thing that came out was "don't talk to me". I was only ten years old, I said things I didn't mean and my sister knew that.





"Mom I'm going to have to drop out. The school wont let me drop cosmetology, and if I do they'll screw up my credits which means I wont graduate with my class. But don't worry I already checked out Can Academy today. They said they can help me." Sophia said without taking a breathe.

As the number of months grew so did her belly. The thing about pregnant women is their hormones are like roller coasters. "Sometimes I'm scared to talk to her, even look at her" I whispered to mom. She turned at looked at me with big eyes "so am I!" Word of advice, never ask a pregnant women if she can see her feet because you will get something thrown at you, trust me.

Before we knew it, my sister was walking across that stage with a very important piece of paper in her hands and a giant smile on her face. That was the happiest day of her life until a few days later when she gave birth to her first child, Hayley Jane White.
The whole family was patiently sitting in the waiting room as we waited for the doctor to walk in. It was so quiet, I could have sworn I heard crickets. As soon as the doctor was spotted all you could here were chairs moving. " You may see her now. Ah ah only a few at a time." I made sure I was one of the first in the room. I sat next to my sister and she looked over to me and said, "here's your niece Hayley." I took her into my arms and immediately knew I would do anything for that kid. I looked up at my sister and back down to Hayley. "Let me tell you a little something about your mommy."

Even though she had to grow up fast, worry about stretch marks and finish school, my sister got through it all. Her life turned out to be the opposite of most teenage girls who get pregnant in high school. She married the father of her child and went on to have two more children. Lets just say my sister is pretty amazing and does everything she sets her mind to. Even though she ruined the part of my mom not worrying about me having a boyfriend, I still love her and will always call her my hero. Forever and always sis.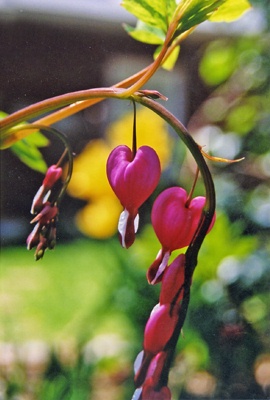 © Sophia E., Wilmington, DE