Sister Lauren G.
MAG
February 25, 2010
The cold water hit my fiery skin like a bunch of needles as I jumped into the deep end of the pool. I looked toward the blurry surface of the water, paddling my arms to reach the air above. Every kick I took seemed to drag me down closer to the bottom. My one-way ticket to heaven might as well have already been checked by the conductor. As my air supply was down to its final ten seconds, I felt familiar hands around me. I broke the peaceful lulling waves of the surface and gulped in a load of air. Oh, that wonderful air!

I looked at my rescuer as I tried to kick my panic-stricken legs toward the ladder. There was a look of distress and relief on her face as my screaming family rushed toward me. I don't remember anything after that since I was very little, but I do recall the look on her face as she watched my family fuss over me. A million words couldn't describe her expression that day. Distress, relief, and love were all plastered on her face like crayon on a blank canvas. That was the first time I realized that Lauren was my hero.

Lauren is the kind of person who is ­always laughing or making others laugh. Like our hour-and-a-half family dinner conversations: it starts with the usual, "How was school?" then the normal, "Good." That's when Lauren comes in, rambling on about something totally random, and in two minutes we are all laughing and joking, her milk-chocolate eyes crying with laughter. She is so easy to like, a quality I admire – and envy.

She is the life of the party, the one who will start dancing to get everyone else going. Although sometimes silly, she has a curious presence about her that may seem cocky but in reality is quite humble. She doesn't brag or gloat; her knowing eyes silently say, I've been given gifts, I am going to use them well, and one day, I might just run the world! Her leadership is tremendous and whenever there is a group project at school, she is always chosen to lead it. If I were to write down all of her attributes, the list would stretch to Maine. Lauren is the most complex person I know.

As a senior in college, Lauren was the director of her school's Special Olympics. I looked at the confident face of my hero as she stepped up to the podium that day, her five foot one and a half inch body not shaking the slightest. She tucked a piece of her hair behind her ear and began her speech.

In front of 650 people, Lauren's melodic voice rang out, flowing as perfectly as a Beethoven symphony. Tears bloomed on the faces of many supporters and athletes as she explained what a hero really is. She was the perfect woman for the job. In Lauren's words, "A hero doesn't necessarily wear a cape, and isn't on the cover of a magazine, but is an individual who takes each opportunity to succeed." She continued, "I feel that sometimes all a person needs is an opportunity to be great to reach his or her potential." Though the menacing clouds threatening to ruin the hard-planned day, the Special Olympics still carried on. Lauren wasn't just a hero to me that day, but to others as well.

A hero is a person who looks at the small things, the things that may not cure all the problems in the world but might help just one person. My hero doesn't shy away from a chance to help someone. My hero is a hero to many others. My hero guides me. My hero saved my life. My hero is my best friend. My hero is my sister.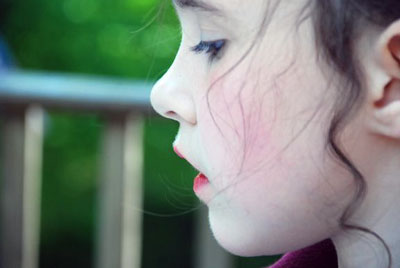 © Julie P., Rochdale, MA