Does America Still Have Heroes
January 19, 2010
What is the first thing that comes to mind when you think of the word hero? Most likely it is a police officer, a fire fighter, a soldier or something like that, right? Well, in my personal opinion a hero does not have to be someone who rescues you from a burning building, a hero can be someone who simply takes time out of their day to listen to you, to love you, to care enough about you to do these things. To me that's a hero. One of my heroes is a man named Walter Breuning. Mr. Breuning lives in Montana and he was born in 1896. This past September Mr. Breuning celebrated his 113th birthday. I wrote Mr. Breuning a letter requesting an interview and he took the time to, in his own hand, reply to my letter. The things that he was subjected to, witnessed, done, the things that he has lived through and now the things that I know because of the truths that he has told me. He is my hero, not because he dodged bullets or saved a life, but because he shared with me stories that may save lives of the future generations since now they will know what happened during the depression, industrial revolution, the world wars and be more influenced to repeat or make sure that these events to not repeat while they have a say.


There are men and women all over the world that perform actions which can categorize them as heroes. People like Dr. Ruth Gruber; she saved 1,000 refugees from Italy during WWII, Tony Fingleton, an Olympic medalist despite his rough upbringing and even Dawn Anna, a woman who recovered from brain surgery just to lose her daughter in the Columbine High School Shootings; all of these people I have personally talked to. In my opinion heroes don't wear capes; they wear honor and who better to wear such honor then our veterans and soldiers?


A veteran or a soldier is simply a person who chose to be a part of something greater than their individual self. I have reason to believe that heroes are not born but are made. As a gem can only become such if subjected to pressure, heat and rubbing; so a hero, only by trials, battles and struggles. I feel safe to say that the wife who waits for her husband's tour of duty to be over and finds that it is once more extended, is a hero. That the father who clutches that folded flag as it wrinkles in his arms, while taps is being sounded, questions his dead sons fate as he momentarily wishes he could take his place there in the cold casket, is also a hero. Being the one who does not know what will happen, or what won't, when you march onto that battlefield, when you lose communication, when your best friend is hit and you can't get help, when the only memory of home you have is a mental projection that comes in flickering waves, when it feels as if the entire world is telling you that it is impossible, though you do it anyway, and whether you achieve it or fail at it you are a hero. You are a hero because you tried. You are a hero because you did what your heart, your gut and your conscience told you to. So long as there are people doing this, so long as respect, loyalty, sacrifice and hard work are passed from this generation to the next, America, and the rest of the world, will never run out of heroes.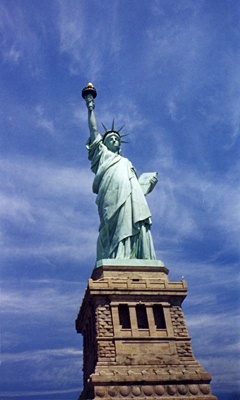 © Michelle S., Loda, IL