No hand to hold
December 17, 2009
Being born a baby boomer, Deena Hunter has faced and overcome multiple challenges in her lifetime. Of course, all people struggle with things in their life, but her ability to defeat these things, and move on so strongly is truly admirable. From growing up in poverty, to losing her husband with a baby on the way, to being diagnosed with a life-threatening diease, this woman is the true definition of a hero.

My grandmother's life as a child was filled with penury. Being the second oldest of four children, her parents were extraordinarily hard on her. she started work when she was just twelve years old. her father's unstable job caused her to move back and forth between Connersville, IN and Kentucky. Although they were quite poor, her family growing up was filled with love and joy.

Once she graduated from Connersville High School in 1966, she moved to Indianapolis with two friends to find work. They lived in a one-bedroom apartment together and had some of the best times of their lives. In June of 1967, my grandmother met Kenneth Oldham, a young, handsome man that she fell in love with instantly. That next December, they were married and expecting their first child together. Shortly after their marriage, Kenneth was drafted into the Vietnam War. She, much like Penelope, spent everyday awaiting her lovers return. On March 3, 1968, however, my grandma recieved the news that her beloved husband had been killed in the war. She considers this "the hardest thing she's gone through in her lifetime."

That October, she gave birth to my mother, Kendra. Not much long after that, she re-married to Robert hunter and had another child. She lived the so-to-speak "average life' from there on out. her children grew up, graduated, and one married while the other focused more on work. In august of 1994, she became a grandmother for the first time, which was an "extremely happy time in her life." A few years later, she and whom I consider my grandfather, Robert, got divorced. this was also clearly a very hard time for her.

Earlier this year, Deena was diagnosed with multiple myloma, a form of blood cancer. When the doctor informed her of this, she said it felt like being "hit in the stomach and losing all air." Treatment began, and her snow-white hair began to thin out around her pale skin. She began to recover, and eventually she entered remission. Recently, however, her cancer has become active again, which was very devastating news. My grandmother is continuing to fight her battle with this disease strongly, much like Odysseus fought all of his battles.

It is quite apparent that my grandmother has dealt with many problems in her life, just like Odysseus. Diseases, death, and other unfortunate events can occur, but my grandma has taught me that if you are a strong fighter, you can make it through anything.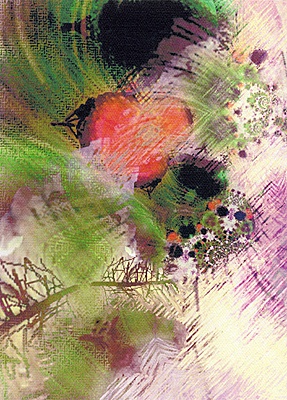 © Ashley P., Galesburg, IL