Mucisian Andrew McMahon
MAG
July 26, 2009
On September 3rd, 1982, a hero of mine was born. He is Andrew McMahon, the lead vocalist of both Something Corporate and Jack's Mannequin. His story began when he was just eight years old, and he first started playing the piano. Before he could even read music, he was a local legend, and was known as a piano prodigy. During high school, he made many friends and formed the band Something Corporate. They released three albums, including "North," and "Leaving Through the Window." After touring for a while, the band decided to take a break. Andrew began to work on a side project, "Jack's Mannequin," whose name has two different points of origin. The first part came from a song Andrew had written for a friend's brother called "Dear Jack." The second half came from possible names the band members had suggested, including The Mannequins. They decided to combine the two, and Jack's Mannequin was born.

In 2005, everything was going well for McMahon and Jack's Mannequin, and they were set to release their debut album, "Everything in Transit." For weeks, McMahon had been extremely tired and not himself. Much to his dismay, he was diagnosed with acute lymphoblastic leukemia. Luckily it was caught early, and there was great hope for a full recovery. McMahon received lots of treatments, and kept a video diary of everything. He plans to make it into a movie entitled "Dear Jack." While being treated, it was discovered that he would need a bone marrow transplant that his sister, Katie, was able to give him. He wrote her a song as a sign of his gratitude.

After the transplant, McMahon recovered, and was back on his feet within months. He began to write music for his second studio album, "The Glass Passenger." This is when Andrew McMahon ­became my hero. Many of the lyrics for this album were about his battle with cancer, and are extremely inspirational. For example, "Caves" is about his struggle for survival. The lyrics range from his time in the hospital and how he was losing hope, to him finding an opening in the death trap he imagined himself in. Many songs on this album have highly motivational lyrics, and they are demonstrations of this true fighter.

Andrew McMahon writes all the lyrics for the band, and therefore they can be related to him in most instances. After ­recovering from his own battle, McMahon did a lot to further cancer research. He sold wristbands printed with a lyric from one of his songs called "Watch the Sky" which McMahon considers his favorite ever. The wristband reads, "I will fight." Approximately $20,000 was raised from the sales of the bracelets, which was donated to the Pediatric Cancer Research Foundation. McMahon is always looking to give back to the people who helped him in his rise to fame and in his recovery.

To me, McMahon's music is what makes him my hero. That's saying a lot, considering he is a man of great charity. I find the lyrics in his songs about cancer very inspirational, and they encourage me to follow my musical dreams. In the song "Swim," the message is to always keep going. It's very touching; he uses "swim" as a metaphor to keep pushing, with lines like "I swim for brighter days despite the absence of sun" and "Just keep your head above." These lines are both synonymous with the saying, "When the going gets tough, the tough get going." McMahon's battle may be over with a positive ending, but his goal is to encourage others in their battles, and whatever they do.

I am one of the many hit hard by the compassion of McMahon, and listening to his music makes me want to pursue my dreams. Andrew McMahon is a true hero to me, and can always inspire me to keep going through the words of his touching music.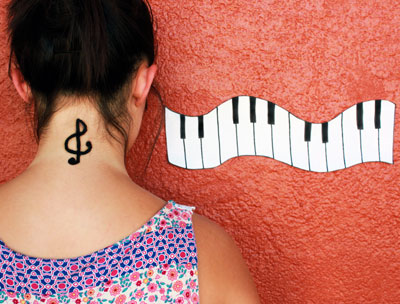 © Lauren N., Denton, TX