LaVern, my Hero
January 19, 2009
My grandfather Lavern is my hero. He was born on August 6, 1925. Vern, as he is known by family and friends, is the husband of Elizabeth and father of six children (Elizabeth, Mike, Joanne, Bob, Kate, and Deborah). He is a veteran of the Korean War, serving overseas for more than two years. Building bridges for infantry and tanks, Vern would say he wasn't on the front line but ahead of it. There was fighting all around him, but he kept going. His Marine Corp buddies said he was the unofficial morale booster. He did a good job of looking at the bright side of things. In the letters he sent home, he always tried to be positive.
He did survive and came back to Michigan. Vern began working for the City of Livonia, as a civil engineer, before starting his own company. Then Vern was diagnosed with serious medical problems. The doctors said that he wouldn't live past 40. They were wrong. Even when it was difficult to keep going, he didn't quit. Some say the love of his wife kept him going. Before he knew it, he had fourteen grandkids.

I guess my hero sounds pretty ordinary. I mean he didn't save anybody from a burning building or cure cancer. To me, a real hero is more about how you live your life then just one act. Vern is my hero because he was always strong even through the worst of it. Though his life was hard, he made the most of his time. He took what God gave him and kept on going. Through all of his medical problems, I never once heard him complain. He is a true inspiration. If there is one thing that I know he wants me to remember is to make the most of each day.
He celebrated his eightieth birthday on August 6 2005. Friends and family came from across the country to celebrate with him. One gentleman checked himself out of the hospital just to attend. Vern's the kind of person you just want to be around. Two years later, Vern's wife died unexpectedly. Just four months after, with a broken heart, but a smile on his face, he joined his wife in heaven.
He was a husband, father, veteran, civil engineer, and best of all, my grandfather. He will be forever missed but never forgotten.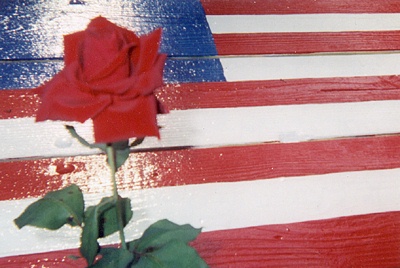 © Elizabeth H., Gulfport, MS