Braulio
March 18, 2009
Everybody has a hero, somebody special and somebody to look up to. Not just anybody can be a hero and some don't even come close to this important title. It takes courage, intelligence, love, and anything else that makes them great. My hero has many things that are wonderful about him. He has touched my heart, and I'm sure many other's hearts too. This person I chose will forever be called a hero, forever be loved and remembered, and will forever be a part of my heart.

My heart goes out to this wonderful cousin who has inspired me to do a lot. He passed away a couple years ago of heart problems. He was everything you could ask for in a family member. This hero was loving, caring, and always in a happy mood. Braulio was the heart and soul of the family. He put a smile on our faces and always kept us laughing. I still remember his voice and warm hugs every few times I saw him.

He lived in a town called Kermit, Texas. It's a very small town that not many people can recognize. We went down there about three or four times a year to visit him and some other family members. Every time we went, we would drop by to say hello. He loved seeing us, as we also loved to see him. My family always wanted to spend time with him and we wanted him to come to Colorado at sometime to visit us.
One very inspiring thing that also made him a hero to me was his goals, dreams and how he achieved them. Kermit was a place of oil working, construction, and other jobs that didn't pay much. He wanted to make something of his life, and he did. He dreamed of going to college, singing, and playing his trumpet, which he had been playing in his high school marching band. Just before his last times, he made a special recording on MySpace. This is a recording of him singing his favorite Spanish songs.

I still remember the last time I saw him, a big hug and a loving smile goodbye. This person, Braulio, definitely deserves to be called a hero. He has everything anybody would need to be called one. To my amazing cousin, Braulio, I say this tearing up and thinking of you, we love you and miss you. We always will. Thank you for touching my heart and being my hero.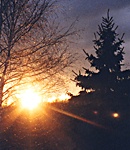 © Christy S., Germantown, NY