Educator of the Year
May 9, 2018
I remember when I first heard about Mrs. McCann. My friends talked about the junior English classes with her, and I was repeatedly the odd one out. I was excited that maybe this year, for senior year, I would finally have Mrs. McCann. But I didn't. Instead, I got to swap out the "Mrs." for "Coach."
Track and field is truly a grueling sport. Running for three hours isn't the most relaxing; I mean, this sport is other sports' punishments. But, as hard as track and field is, that pain slowly eases when you have someone like Coach McCann by you.
As a 5'5", brown eyed woman, Coach McCann may not look too intimidating. But that's what makes her different. Coach McCann works with a small sprint group. After teaching a full day of classes, you would think she would be exhausted, but her energy is the opposite. Coach McCann comes into every practice ready to motivate not only me, but each and every one of us.  From cheering on the snow-filled, frosted ground, to standing for hours in the humid, blaring sun, she shows her dedication to the whole team. Through this she has taught me the meaning of commitment.
I tend to be nervous and anxious during track meets. Just the sound of the gun makes my stomach twist and turn. But I have yet to run in a race where Coach McCann hasn't been by my side right before that gun goes off. She takes the time to flood positive thoughts and motivation into my mind, ending with the famous, "Deep breaths, you got this." She truly is the mom of our track team, and I am lucky know Coach will always be there for me.
Aside from all the seriousness of track and field, communicating with Coach McCann brings laughs. Having that sense of humor enlightens and positively impacts the mood of the team. For example, I feel like every story she tells me I can relate to. She's even made me laugh when I had to run with the stomach flu. It is crucial to have a coach bring positivity and good emotion into a sport like track and field.
If I had to take away one thing from Coach McCann, I would take away always finding the good in every situation. I can always find that little bit of light through any gruelling workout now, and I owe all of my thanks to Coach McCann. Plus, now I can tell all of my friends that they should try exchanging the "Mrs." for "Coach."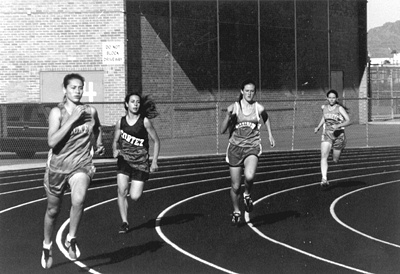 © Lauren J., Phoenix, AZ