Coach of the Year
May 9, 2018
Being poised, patient, and passionate, Coach Kyle is one of my biggest supporters and is one of the most influential people in my life. His words are as powerful as a hurricane. Being my summer softball coach last year, Coach Kyle was crucial in the development of myself as a person and a player. To say I am fortunate to have been coached by him last summer is an understatement. My goal since I was kid was to play college softball, and I wouldn't have reached this goal without the help of Coach Kyle.

At 6'7'' Coach Kyle stands out to many people, but he stands out to me for other reasons like his commitment to BATS Academy. BATS stands for building athletes towards success, which embodies Coach Kyle's coaching style as he shares his wisdom about the game with players in the program and has high goals for all his athletes. His persistent belief in me and encouragement to never give up throughout the long and frustrating recruiting process played a key role in my confidence and positive mentality this summer.

Coach Kyle creates a competitive atmosphere and teaches the athletes in the program the importance of great team chemistry, exposing me to some of my best friends today. Coach Kyle taught me to never give up on my dream of being a competitive college pitcher, even when it seemed as though I was unnoticed on the field by college coaches. Coach Kyle believed in me when not many other people did which helped me realize as long as I believe in myself, it doesn't matter what other people think. In life everyone faces adversity and Coach Kyle has helped me learn that I must stay confident during these times to reach success.

Not only did Coach Kyle believe in me, but he also consistently went out of his way to talk to college coaches for me, help me improve my game, and acknowledge my hard work. He shows his burning passion about his players and the game by going out of his way to help them succeed and reach their goals.

Not only has Coach Kyle had a positive impact on me in softball, but he has also taught me life lessons about hard work, persistence, and adversity. He creates a "family" mentality with the BATS program which is a key part of its success.

It is no surprise that his team continues to be one of the best in the Midwest, as he is a great role model for the players in his program and he spreads his burning passion to everyone around him.

Coach Kyle has helped me grow into the player and person I am today and I wouldn't be where I am without his help and encouragement. I am blessed to have had him as a coach and I look forward to the future player and person I become because of him.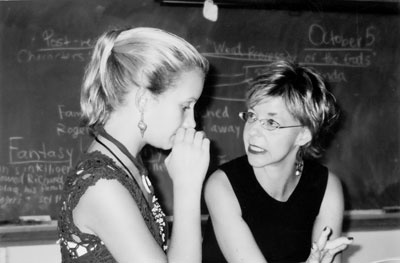 © Olivia L., Pompton Plains, NJ