Educator of the Year
May 9, 2018
Imagine a class where every day the kids are laughing and smiling. They are captivated by the material. There are videos, games, snacks, and fun demonstrations. Instead of trying to frantically figure out what they should be jotting down in their notebooks, the teacher makes sure all the important notes are already available for them. Rather, they get to watch, listen and absorb all of the fascinating information like a sponge. This sounds too good to be true, right? Would you believe me if I told you this was actually an advanced placement class?
A.P. classes certainly aren't easy and they require dedication and hard work. Yet, thanks to Mrs. Brown, A.P. Psych comes easily to junior and senior Arrowhead High School students. I am currently a senior and A.P. Psych with Mrs. Brown is one of my favorite classes of the day, as she always makes the material engaging and enjoyable. With her unfailing enthusiasm and bubbliness, it's easy to see why her classes are almost always full.
Mrs. Brown truly cares about her students. I remember last semester, around the time of midterms, everyone was stressed out by the review packets and exams that were looming. She decided to start our class with a stress relief activity that would make everyone's day better and hopefully take some of the weight off our shoulders. On a half sheet of paper she had us write out–completely unfiltered–everything that had been stressing us out. It was a green light to vent all that had been crowding our minds. Honestly, it was one of the best, most creative activities I have ever seen a teacher come up with and it had a wonderful impact. By releasing exasperating thoughts through writing, I felt not only relieved but also refreshed and afterward I was able to better focus on the material at hand. The notes were anonymous, so Mrs. Brown decided to read them aloud because it would show that we were not going through these things alone. Surprisingly, a lot of them ended up being funny, things like "I'm so done with all these review packets, I'm gonna drop out." and somehow, joking about all that stress made it seem not so scary. That day she reminded us that stress is only temporary and that laughter is always is the best medicine.
Yet, there were a couple notes that were more somber of course, people talked about having trouble with their friends or feeling alone. When she started to read these notes, Mrs. Brown immediately said, "Whoever is feeling this way, please come talk to me after class!" I thought that was really kind of her, and often I feel like she is more of a mom than a teacher, as she treats all of her students as if we were her own kids. She is always genuinely concerned for our well being and does everything she can to help us succeed more.
If we're are feeling exhausted or stressed out, she always finds a creative way to boost morale, to get the smile back on all of our faces. I've had A.P. Psych with her for both 8th and 10th hour, which are classes at the very end of the day. Students are usually running out of gas at that point, anxious to get home. Yet, in Mrs. Brown's class, no one is sleeping, or making audible sighs. We ask questions and everyone is laughing and smiling, having fun. We are captivated by the material and it's all thanks to Mrs. Brown, a truly wonderful educator.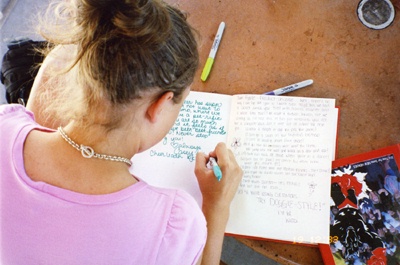 © Jessica S. Pheonix, A