Educator of the Year
May 9, 2018
Being the son of a teacher at my middle school gave me a much greater appreciation of educators. From a very young age, I saw the work that was put in behind the scenes by people that most students largely took for granted, or never saw entirely. When Merton Intermediate School was empty of students after the final bell, I was wandering and socializing with the staff. But I always hoped to find my favorite custodian, and nominee for Educator of the Year, Mr. Jim Hannon.

You can't help but smile around Mr. Hannon. His contagious laugh, joy and optimism were infallible cures for a bad day. He told his stories with such enthusiasm and happiness that made me realize that I need to appreciate the things I have in life. He talked about school, sports, and family in ways that entertained and inspired. There was always a life lesson, a bottom line, a moral. He quickly became an important person to me, without either of us realizing it.
Mr. Hannon was a role model to me, and I continue to apply the things he taught me. He showed by example how to take pride in my work. Every day when I grabbed my slice of pizza and chocolate milk in the lunch line, and walked to my table, I noticed the pristine white tiles. They made me think of Mr. Hannon, and smile. He showed me how to find the positives in life. In a job that most people would hate, he saw it as an opportunity to give back.
He attended every school basketball game, graduation, and event. Every student had to go through the moment, multiple in my case, where they forgot a coat, or a backpack, or homework in a classroom—and, unfailingly, Mr. Hannon was around to let them in with a chuckle and endearing smile. His favorite farewell was "See ya later, kid."
Recently, I went to a fifth grade basketball game with my mom to cheer on her students. Like clockwork, there he was. He grinned with that familiar, bright smile when he saw me, and we gave each other a big bear hug like friends reunited. Even though I'm taller than him now, which I love to remind him of, I still look up to him. People often look down on custodians, but I hope to be half the person Mr. Hannon is.
Like a drop of food coloring in water, Mr. Hannon is a radiant, happy soul in what can be the monotony of middle school. He continues to serve as a custodian at Merton School, but he's so much more than that. He's a father figure for the kids lucky enough to know him, and a constant source of joy and laughter, emanating happiness.
Whenever I go back to Merton, I still hope to find my favorite custodian, Mr. Jim Hannon, with that same joy I had when I was a kid. Thank you, Mr. Hannon, for all the wisdom you gave me. You taught me more than any equation or history lesson ever could.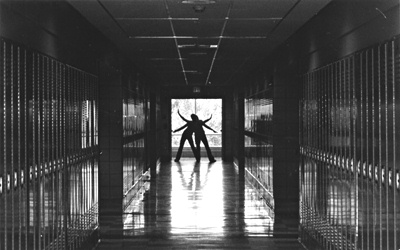 © Sheera G., Marblehead, MA