My Favorite Teacher
May 9, 2018
Mr. Ray was my fifth grade math and science teacher at North Lake Elementary and Middle School. He had natural blonde frosted tips. As a runner he was fit and strong, wearing strappy sandals almost every day. In all my years of learning, I have never had such an engaging teacher who had the ability to captivate their students with just one word. Every day was a new lesson and a new day to have fun.
As a child I struggled with math, but I always knew that l would be successful in the future because I had Mr. Ray as a teacher. He was the only teacher I ever had that was willing to help me in a different way in order for me to understand the material. Whenever I would ask for help after a lesson, he was always excited and ready for me to learn and excel. Something that he taught me was that I could do anything I put my mind to, even if it was challenging and I needed help with it. Whenever a challenge in my life comes up, I always think back to what Mr. Ray would tell me to do. He would tell me that I can do it, and he would give me the confidence to face the task head on.

Mr. Ray was from Illinois, and was a very outspoken bears fan. With a room full of Wisconsinites and a few hardcore packers fans, the winter football season was always interesting. We would discuss sports for five to ten minutes before the lesson, and then work extra hard so we would be all caught up. This just added to the constant fun and nonsense that went on his classroom, but as soon as Mr. Ray has his own unique teaching style. I have never seen such a captivating teacher, or one who connects with their students as well as he does.
Whenever I walked into his room in the morning, I felt like a kid on christmas, waiting for what he had planned for that day. After school was over for the day, I would go home and tell my parents the exciting things I did and learned in Mr. Ray's class that day. I was always happy after I left his class, and ready to take on the rest of the day.

After I moved on to the next years of my schooling, I realized how unique Mr. Ray was as a teacher, and that I wished he was my math and science teacher for the rest of my middle school days. Ever since middle school, I haven't found a teacher that is so energetic or interactive with their students, and I think that is a good thing. This means that Mr. Ray will be the best teacher I've ever had, and no can top his style and attitude. It was a shame that I couldn't keep him as my teacher, but I got to see him more as time went on.

Mr. Ray is a high school distance track coach. I sprint on the Arrowhead track team, and I get to see him nearly every day of the season. Although sprint and distance events are separate, we still practice at the same time. Whenever I'm doing a workout or recovering during the rest time, Mr. Ray takes the time to encourage me or just converse with me. Even after middle school, after all the shenanigans I pulled in his classroom, he is still teaching me every day on how to be a better person. He may not realize, but he has taught me what it means to make people smile, and that just one good act can make all the difference in a person's life, just as he made a difference in mine. I find that life can be just like Mr. Ray's classes, with a new lesson to learn every day, and every day being a new one to have fun.

Mr. Ray was helpful, smart, enthusiastic, and above all, he believed in me. These are only a few of the traits that he has to offer, just as I am only one of the students whose life he has made better by teaching. I am thankful that Mr. Ray was my teacher, and can still continue teaching me even when I am not his student.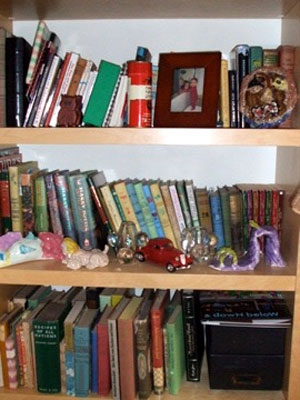 © Nina M., San Francisco, CA