My Educator of the Year
May 9, 2018
As I walk through the halls on my first day at North campus at Arrowhead High School, I am completely lost. I couldn't wait to get out of South campus (South campus is for freshmen and sophomores). I am a junior walking through a new campus for the first time and I was intimidated. I was nervous. I didn't know where any of my classes were. The only room I knew was the coffee shop, where I met my nominee for this award.

Mrs. Dlobik is a special educator at Arrowhead. She works with all different types of kids and treats them all the same. No matter what disability they have, she treats them as though they had no disability at all.

I met her during lunch one day. I didn't have a lot of friends in my lunch, so I would sit in the coffee shop by myself. Mrs. Dlobik welcomed me with open arms and treated me like she has known me for years. I started coming into the coffee shop more and more throughout the day, and from that I also met friends, ones I will have for the rest of my life. None of that would've happened if it weren't for Mrs. Dlobik. She taught me to talk to people with an open mind, and go into situations with a positive attitude, and I will take those lessons with me for the rest of my life.

As I walked through the school during Christmas time, I saw a tree outside of the coffee shop, that day I asked Mrs. Dlobik what it was for. She told me it was for the Giving Tree. Mrs. Dlobik started the school Giving Tree, where people bring in hats, coats, and even gift cards for families that don't have the money to buy the winter essentials for their children and themselves. We all know that life can get hard, and Mrs. Dlobik is trying to make it easier for families in need. She is such a compassionate loving person and she wants to help anyone that she can. That inspires me and others who are in the coffee shop to give every person we meet a chance no matter what we hear about them. I am following in Mrs. Dlobik's footsteps and I want to make a different in the people around me by spreading positivity.

Just by talking to people she can brighten up their day. I know I've had bad days and she has turned them around and made me think of the good in life instead of moping about a bad grade on a test. I now look at things as if they could be worse. I've had some rough times during my years at Arrowhead and she taught me that none of that matter. What matter is what is going on in the present, and that has changed the way I look on life.
Mrs. Dlobik has taken the role of the Arrowhead mom. She treats everyone as if they are one of her own, and she cares about every person who walks into the coffee shop. If you ever see her in the halls she will always give you the biggest smile and a "How are you doing?" She is someone who always looks for the positives in life and more people need to be like her. Someone who is never in a bad mood, always smiling, and always is willing to listen and give advice when it is needed.

Mrs. Dlobik doesn't only care for people at Arrowhead, every Thursday Mrs. Dillner comes in. Mrs. Dillner was in a horrible accident one day and now is in a wheelchair for the rest of her life. Mrs. Dlobik brings her in on Thursdays where she get to interact with students and tell us about her stories and what she is passionate about. Listening to the stories of Mrs. Dillner has made me grateful for the life I am living. All the kids in the coffee shop are so welcoming to Mrs. Dillner, and it makes her day every time she comes in to see us. Mrs. Dlobik is a wonderful lady who is only looking to make people happy, and she achieves that when she brings people in, when she welcomes new students, and when she just talks to students that currently go here. She is someone who I can look up to because I want to be able to make people's day as much as she does.

As I walk down the halls today and see Mrs. Dlobik I try to imagine the look on her face when she finds out that I nominated her and how happy she will be to be noticed and thanked for the all things she has done here at Arrowhead. I hope that you will consider Mrs. Dlobik for the Educator of the year because she goes out of her way to make sure all students are loved and welcomed here at Arrowhead.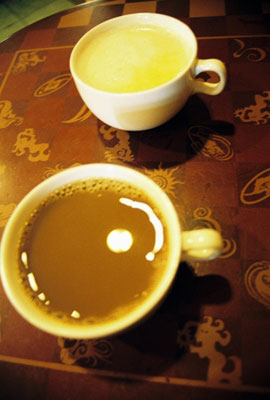 © Jaci S., Duluth, GA