Coach Mayer
May 9, 2018
Going to practice used to be like the first day of the school year; painful and a burden. I used to dread having to stay after school and bring all of my lacrosse equipment. The first practice, I was extremely scared to meet my first varsity coach for Arrowhead, but once we all gathered, we had our first team talk. After that, the dread of going to practice was completely eliminated. Little did I know the inspirational talks were going to be so impactful in my life.

During these talks, Coach Mayer always had a story to tell to inspire us to become better people. He cared more about players as individuals rather than just a large group which was something different than I have experienced before. I learned how to play together as a team and how to be a responsible, but effective, player on and off the field.

He worked with us individually on skills we needed to improve on and made sure we were given all the instruction to be able to play to the best of our ability. If I had a good game, he would send me a text telling me that I did, and it was so rewarding getting the reassurance that he is in fact paying attention to my skill level and personally as a player. Being able to have him as a coach felt like making the winning goal in a game; filled with excitement and motivation. He truly believed in me and saw the effort I put into the game and in each and every practice.
Coach Mayer would sit us down during some practices to discuss the game we had just played the previous night and talk about what we did well and what we needed to improve on. Reflecting on the game showed that he wanted us to know our strengths and weaknesses which is a crucial part to success. He taught me how to live everyday with a purpose and to make the best out of any situation by always staying positive. Most people see their coaches as someone who just leads a team, but I see him as a mentor and someone I can truly look up to. I feel like we were put of the same team for a bigger reason, for life lessons to be taught and learned. Without him, I wouldn't have made the team I'm playing for today.

He truly inspired me to put everything I had out in each and every game. If I were struggling with a certain skill or shot, I would work as hard as I could with any second of free-time I had, on trying to perfect it. I have improved my work ethic dramatically ever since the first day I had him as a coach.

Coach Mayer is understanding and genuine. He puts others before himself and wants the best for each and every player. This is why I chose him for this award. He is the most inspirational person I have ever met and has made such an enormous impact on my life.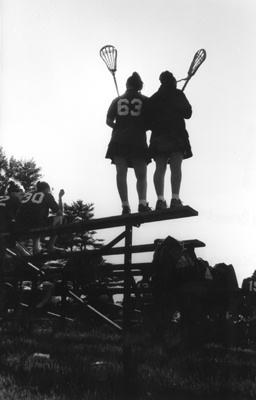 © Hadley B., Marblehead, MA