My Favorite Teacher
May 8, 2018
     In fourth grade, I moved in the middle of the school year to a new school, filled with new kids and new teachers. I was nervous, because I used to be super shy; yet, Mrs. Loescher, my literacy teacher, helped me come out of my shell. She encouraged me to make friends in which I still have to this day.
     Throughout my life, since kindergarten, I've had teachers and influencers helping me. If it was personal or school related, I always had someone to assist me; however, certain teachers were more helpful than others.
     I'll never forget walking into her classroom with my sister and dad that cold December morning, touring the school for the first time. Entering the school, Mrs. Loescher's room was the first room we stopped at, and frankly, it was the only stop we needed to make.
    As we creeped into the back of her classroom during her lesson, the class stopped and stared at me. I heard them ask "Who's the new girl?"
     Mrs. Loescher, smiling at me with such confidence, somehow already knew I was going to do just fine in this new environment. She introduced me to the class and made me feel welcomed to the school. She gave me a tour of her classroom and all the kids went around saying their names. Little did I know at the time, those were the same kids I would be passing everyday  in highschool and ultimately walking with across the graduation stage within a few years. 
     After winter break, only weeks later, I found myself in that classroom every single day. Her bright smile and unique personality is what got me through that year of adaptations and changes. For that, I will forever be grateful for her.
      As the years go by, and we get older, friends I have from that class are bringing up funny memories from her classroom. Mrs. Loescher was not only an outstanding literacy teacher, but she also was an amazing person. In class, she knew every one of her students and would accomodate them. For me, she knew I was shy so she would put me in the back of the classroom, while still encouraging me to talk to new people. But she never forced me to talk to new people which made me feel more comfortable. I am no longer afraid to talk and meet new people because of this, which is a strong skill to have throughout my life.   
     Without the help of Mrs. Loescher, I would not be who I am today with the wonderful people in my life. I am no longer afraid to approach new people in fear they will judge or dislike me. I am so grateful I had her when I moved schools, and better yet, I am so grateful my cousins have her too. I tell them not to worry because they are in good hands, thanks to Mrs. Loescher. Even though at the time moving schools, meeting all new people and teachers seemed horrendous to me, I gained many lifelong skills that gave me the confidence and courage today, all because of Mrs. Loescher.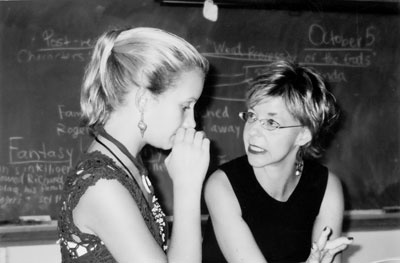 © Olivia L., Pompton Plains, NJ