Educator of the Year
May 8, 2018
Walking into school the first day of freshman year was awful.  The hallways were overcrowded and people were pushing others to get through.  Then I walked into my French room, and I was transported into a new culture.
The only French teacher in our entire high school of 2,260 students. She has long hair with a fun, sparkly highlight.  She wears eccentric jewelry and long flowy dresses; she was unique.  She only talks in English when you are doing something you aren't supposed to, and that lets you know you better get yourself in line.
Without fail, everyday walking into her class and hear "Bonjour, ça va?"  She is the only teacher I know who will always ask you how you are, and genuinely wants to know what's going on.
We had a presentation that, with a partner, we had to talk in front of the class about French art.  When we started our presentation, my partner started to have a panic attack and left the room.  Without hesitation, Mademoiselle went after her, and when she came back in the room acted like nothing had happened continuing to the next presenter.  She then took time out of her day, to sit down with me and my partner so we could privately present our project to her.  Any other teacher would have put us right back up and had us present again.  But Mlle recognised that that was not the best thing for anyone involved.
She makes a big deal whenever everyone does all their homework, and that means we get a class sticker, and if we get enough we get a French party.  At first I thought it was kind of childish, but I come to look forward to that "autocollant" (sticker) everyday—you do not want to be the person who doesn't let the class get their sticker.
Being the only French teacher in a huge high school is daunting enough, but Mlle takes it a step further.  She also is the head of French club, and French Honor Society.  She allows anyone to join French club or just participate in some of the activities she has planned—such as eating dinner at the Melting Pot, a trip to Chicago, movie night, and even trips  to France. For all of these reasons and more, I would like to nominate Mrs. Armour for this award.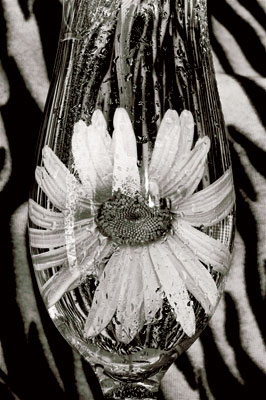 © Garrett M.