Educator of the Year
May 8, 2018
I've learned a brain-full amount in high school. Infinite number of pages of notes and material covering classes in all subjects. But, I have never been taught valuable lessons and curriculum while being entertained... until I walked into Freeburg's classroom. Before I took, ninth hour Organizational Communications taught by the one and only, Mr. Andrew Freeburg, Arrowhead High School moved along just ok.

I can say I have never had a teacher like him before. He is so out there, but in the best way. He made me laugh more times solely with his jokes about himself and his outfits (Total Gap Outfit), than any other teacher did in a whole semester. Mr. Freeburg enjoys his cardigan sweaters and a nice hefty work shirt. It's the smallest things that he appreciates that make the atmosphere in his class pop. It makes the class feel like I belong there. A familiar feeling that I know is for learning and for fun, at the same time. Where I can come to class Monday-Friday looking for us to pick up where we left off.

Besides the fact that Mr. Freeburg's class was the most enjoyable to be in and participate in, he helped me in ways that teachers haven't done for me in the past. His class's material is 100% practical and useful. It's not trigonometry I won't ever use; but instead, I learned about body language and how to be a better communicator. I also learned how to go in for an interview or how to write a proper apology letter.

One of the best activities that I took away from Mr. Freeburg's class was his outline format. No matter what the task is, this blank outline he taught us to use was so helpful. It could be applied for the format of a job resume or to help write the most important speech of your life.

Mr. Freeburg cares about his students and the education we receive. I want to thank him for the way he reaches out to us. He tries to get the teaching point across for his content in any way possible. He helped me and assisted me in grasping the material we were learning in his class better than any teacher or educator before. Freeburg carries the learning styles for each student to help every last one of us.

Mr. Freeburg is as excited to learn as I am to surf my first wave this summer. You can see it all over his face, all class long. Before he started class, Mr. Freeburg would share random tidbits out of pure interest. I learned where I can go to experience the best falafel ever. That's what I get ramped up for each class, something unused and comic. I care to listen in his class because there's never a point where it's a struggle to learn.

I want to thank Mr. Freeburg for being so helpful and giving me the tools to better my future. His teaching method is the best of any teacher I have had. He made me a better public speaker and I feel confident and stronger because of his care.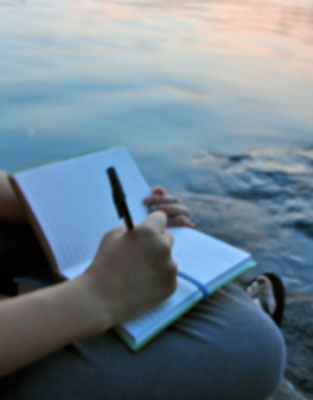 © Grace K., Port Washington, NY