Educator of the Year
May 8, 2018
I've been lucky enough to have had dedicated teachers throughout my life. However, there's a difference between a dedicated teacher who wants to teach you curriculum, and an eager teacher who wants you to be successful in life and pushes you to your fullest potential. I had an educator who went out of her way to get to know me personally. She supported me in everything I wanted to do in life; and she is an accommodating, devoted, energetic. Her name is Mrs. Budisch.

The day I found out Mrs. Budisch was going to be my sixth grade teacher at Lake Country School I was thrilled. She was always known for being the "cool" teacher by all the students.

In sixth grade, my homeroom teacher was my teacher for every class every day, except math. Little did I know at that point in my life that Mrs. Budisch is way more than just a "cool" teacher.

For the first semester of sixth grade I spent everyday with Mrs.Budisch being taught every subject—when it came to math I changed classrooms because Mrs.Budisch taught the advanced math students. Everyday I dreaded changing rooms and going to math class, because I struggled to focus and stay on task since it took all the kids around me longer to understand the information. This caused my math teacher to get frustrated with me, believing I didn't truly understand what was happening.

Once second semester sprung, I told Mrs. Budisch about my problems in math class. At this point I had never heard of a student switching math classes, and my current math teacher didn't believe it was a good idea for me—she feared I would quickly fall behind. Lucky for me, Mrs. Budisch took a chance with me and placed me in her class. When I found out about the change I was determined to ace her class and prove to others I was capable of being in her class.The first month was chaotic—every night I had double the homework in order to catch up and the pace of the class went faster than I could run out of that school. Mrs. Budisch never stopped believing in me and every day before or after class she would take her own, unpaid, personal time to help me and make sure I was confident with all the material. Her dedication and enthusiasm gave me confidence and the will to continue to push myself.

Joining Mrs. Buddish's math class motivated me and gave me the courage to push myself. She has allowed me to excel through high school, and helped make me the person and student I am today. She changed my life by pushing me and supporting me more than any teacher has ever done before. She made me realized how much potential I have and I am capable of anything, if I put the work in.

Since her math class I have grown to enjoy math class everyday and embrace the struggle. This motivation and confidence has lead me to my next path in life—majoring in mathematics at Mckendree University next fall.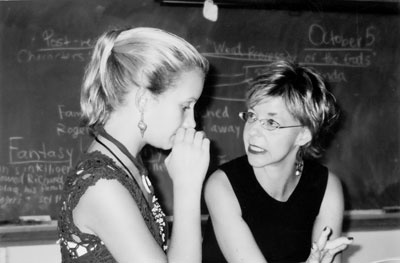 © Olivia L., Pompton Plains, NJ