Educator of the Year
May 8, 2018
It's just another crazy day of senior year at Arrowhead High School. I frantically finish taking notes in pre-calculus as the bell is ringing. Then, I quickly pack up my backpack, and rush off to study hall. I huff and puff down the hallway as I think about all the stressful things every high school student worries about; that chemistry test on Friday, the money I need to remember to bring in for student senate, remembering to ask off of work so I can go to that concert with my friends…

But, as I walk through the study hall room doors something changes. Suddenly, as I am greeted by Mrs. Loke's warm smile and her lively music all my stress and worries disappears. I make eye contact with my friends as we mouth the words to whatever song Mrs. Loke is playing and maybe even do a little dance. Mrs. Loke is known to play the song "It's just another manic Monday", or "Party in the USA". Singing to these songs for a few minutes helps me decompress and clear my head before I get to work.

Not only does she play awesome music every single day, but she also bakes yummy treats! You can bet yourself that on every holiday or the day before a break she will have hundreds, yes HUNDREDS of home baked goodies on the table in her room. Can you imagine going home after a long day of dealing with moody teenagers and spending the rest of the night baking treats for them? Having a little treat in the middle of my busy day lifts my mood and gives me motivation to get stuff done.

After recent safety concerns due to school shootings, Mrs. Loke was of the only teachers to go over our plan and make sure we all felt safe. She apologized for the fact that we have to worry about this and she told us that for the time we are in her room we are her kids and she will protect us no matter what. Because some of the study hall doors don't lock properly she told us she looked up how to make a device to attach to the door so you can't get it open. She promised us she would make it at home and bring it in so if we ever needed it we had it. To have someone make you feel so safe, protected, and cared for is truly the most comforting feeling. This helps me focus all my attention on my school work instead of worrying about my safety.

I was out of school for a few days this year because I had mono, and when I returned Mrs. Loke was again one of the only teachers to check in on me. She would come over to my desk everyday after she took attendance and give me a sympathetic look as she asked me how I was and if she could get me anything. One day she even said, "I could bring a pillow and blanket for you to take a nap!" She was half kidding, half not, but it made me smile and we had a little laugh. It's interactions like that which make school actually enjoyable.

Mrs. Loke is more than just a study hall supervisor at Arrowhead High School. Mrs. Loke is like a motherly figure for hundreds of kids.

With Mrs. Loke it doesn't feel like just another crazy day. For those 40 minutes I am in her room, my attitude is immediately changed, and from that point on in the day I have a little extra spring in my step. She gives off a positive vibe that really makes my day. She makes me feel like she has that job for me, not for the extra money, but because she cares about every student that walks through her doors.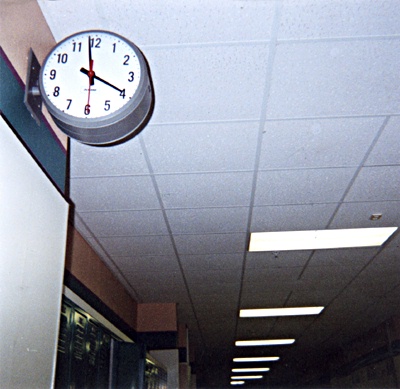 © Blake B., Highland Village, TX