The Joy of Writing
May 1, 2018
Throughout the educational years of my life, I have fluctuated frequently among my opinion of certain classes. Some years I would love math, other times I would hate it. Geography, science, all subjects, really. One subject, however, always stayed the same: language arts. Despite the kind and considerate teachers I had encountered, I never felt passion in writing. Until I met her. Mrs. Kelley. In the beginning of the year, I confidently believed that this would be the worst class I would ever experience. There were assignments where the class had to reflect on the book we were currently reading in a notebook, known as a "LitLog" to us. These were assigned WEEKLY, creating nightmares for us students. Because of my terrible procrastination, I ended up spending my mornings rushing away at a book I failed to enjoy. So all in all, I believed this class would be the worst.

The year progressed as my fondness for the class slowly increased. As I listened to more and more of her lessons, her word choice stuck to me. The understanding of the connotation behind the words she used amazed me. Her method of teaching matched my preferred way of learning as well. Her general procedure consisted of teaching and independence. She taught the lesson in such a clear and concise way, it was nearly impossible for someone to misinterpret it. But that was not what made her my favorite. After her instructions, she gave us an enormous amount of freedom in what we wrote. Unless it was an essay, she allowed us to craft our own stories to our imagination. There was one event, though that was truly revolutionary for me: the historical fiction unit.
In this unit, we were able to fabricate our own stories using the time period we were given. World War II was mine. At this point, I was just looking for a decent grade, also known as trying-to-get-higher-than-a-B. Drawing inspiration from one of my favorite TV shows, I constructed my story. It conveyed the deteriorating happiness of a mother as she loses her daughter to Hiroshima. Rather than creating a mundane story, I wanted to make a story that I felt was meaningful. Without thoroughly looking through the rubric, I proceeded to write. As I progressed, I was pulled further and further into the reality that I had made. Grammar ceased to exist in those moments, as my hands gained acceleration. I put my heart inside this story. When I typed the final word, my hands trembled with excitement. The story I had created. A story I was proud of. Briefly, I read it over and fixed any obvious mistakes. After that, I simply submitted the rough draft. With relief in my heart, I let myself rest.

The days seemed to drag longer and longer as I waited in anticipation for the feedback to arrive. In the midst of this anxiousness, Mrs. Kelley responded to my story. She pointed out any mistakes and gave any suggestions there were to give. As I looked through the comments, there were no comments of recognition. Saddened by the absence of even a mark of approval, I fixed the errors and moved on. As I waited for my essay to be graded, I erased myself of all the unrealistic thoughts that wandered in my mind. In this time of anticipation, another event was brewing: the Barnes and Noble Book Fair. In this event, the 7th and 8th grade English Language Arts (ELA) teachers had the opportunity to post student works in the store. At the time, I didn't think much of it. Most of the writings I did were subpar in comparison to other students. Then came the day.

It was a warm spring afternoon, with the sun peeking out from behind the fluffy clouds. Saturday was just around the corner, and, as usual, everyone's foot tapped in impatience for the bell. My last class happened to be ELA that day. On that day, Mrs. Kelley announced that she would pick student works and asked said students if she could enter their writings. Coincidentally, on that day, she would pass back the rubric for the historical fiction story. She proceeded with her signature procedure, eventually allowing us to proceed with our independent work. It was then that she started her journey around the room, requesting students for their permission and handing out student rubrics. A pang of longing lingered as she slowly made her way to my desk. From my previous observation with other students, if she was planning on entering the student's work, she would address the person first, rather than giving the rubric first. To my dismay, she handed me my rubric, but something was different, she started to talk to me. She mentioned that the story I had created was a very good story overall. I looked at her in confusion. Then she asked if I she could put my story into the fair. Stammering, I gladly acquiesced. She proceeded to mark something down on her list and moved on to the next. Excitement stirred inside of me, while pride and joy fused. A grin tugged at my lips as I looked to the rubric. A grand "+5" was attached to the score. Looking more into the rubric, I found that she had given me an extra point in "Story Development", adding an "Excellent!" next to the extra point. This one moment was simply revolutionary for me. No other teacher had done this. She graded my story, of course, to the rubric, but most importantly, she graded it as a story. It was on this day that I felt what it means to be a writer. So this is why I'm writing this paper. This roller coaster of emotions of ups and downs was brought forward by one teacher and one teacher only: Mrs. Kelley. The teacher who showcased to me the world of what literature can be. The teacher who taught me the joy of writing.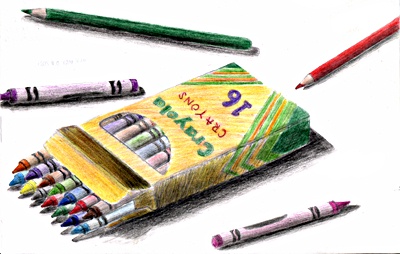 © Dana H., Wichita Falls, TX