EOTY: Mrs. Jensen
January 11, 2018
Challenging, helpful, and encouraging are three words that describe my former teacher who I believe deserves to be the Educator of the Year. These are some important qualities that I look for in a remarkable teacher. I have had many teachers over the years, but there have only been a few who have shaped me into the person that I am today. One exceptional teacher is my 8th grade English teacher, Mrs. Jensen.  After spending an entire year in her class, it is easy for me to say that she deserves this honor.
Mrs. Jensen created a challenging atmosphere for learning.  For the first two marking periods of 8th grade, I despised going to ELA.  In Mrs. Jensen's class, we did nothing but write essays and focus on grammar.  I strive to always do my best, but the workload was overwhelming and very demanding.  I remember doing a project where I had to compose and deliver a speech in front of the entire class. I am very shy, and I remember being so nervous days leading up to the day I delivered my speech.  I remember thinking to myself, Am I going to mess up?  Will I stutter or freeze up?  What if I forget everything I am supposed to say? The assignment challenged me to come out of my shell and face one of my fears.  As a student with anxiety, this was a very big deal. Throughout the remainder of the year, I continued to face many more obstacles, but I feel every challenge helped me to grow academically.
I was able to face all of these academic challenges with the help of Mrs. Jensen.  She always found time to help me out with anything that I needed.  I would go in during my study hall, and she would provide help with grammar or with editing my writing.  When I applied to my dream high school, she voluntarily wrote me a letter of recommendation.  This meant so much to me, and I'd like to think it helped me get accepted into Delaware Military Academy.  She was also helpful because she understood that I have anxiety. One time during our help session, we talked about having anxiety, and how I put too much pressure on myself.  I knew that she cared about me as a person, and that she understood what I was going through.
Mrs. Jensen was also encouraging as an educator.  Encouraging is defined as giving someone support or confidence.  This is what I remember most about her as a teacher.  Even today, I still doubt myself often.  During these times, I think back to when she offered me words of encouragement. In her letter, she said that I led by example and that I am someone who demonstrates perseverance. I didn't see myself the same way that she saw me.  I worked so hard in her class and as a result, I feel much more confident in my abilities as a writer and as a person with anxiety.
In conclusion, I like to think about what truly makes a teacher memorable.  Maya Angelou once said, "People will forget what you said, people will forget what you did, but people will never forget how you made them feel."  Mrs. Jensen made me feel confident, intelligent, and special.  I felt like I was more than a student when I was in her class.  She cared about me as a student, and also as a person.  I will never forget her and the impression she left on me. This is why I believe she deserves to be the Educator of the Year.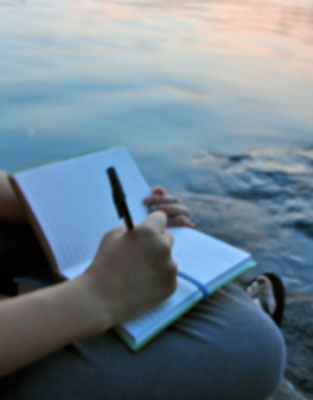 © Grace K., Port Washington, NY