Educator of the Year
January 10, 2018

Educator of the Year
Mrs. Donna Bucci
I nominate my 8th grade math teacher as Outstanding Educator of the Year. Mrs. Bucci is excellent at teaching in the classroom in many ways. She has a special teaching style, and always strives to involve the whole class. She is an untiring advocate for her students and makes insightful recommendations for them beyond the classroom. Mrs. Bucci makes math enjoyable for everyone.
Mrs. Bucci is excellent at organizing and presenting material in a way that is easily understood and retained. She gets the entire class involved by having team games to complete the work and learn the lesson, without the class even realizing it. She has the class participate in group projects that incorporate the lesson learned into a slideshow or poster. Mrs. Bucci makes learning math fun. I often found myself not being able to wait to have math class! Math is my favorite subject to this day because Mrs. Bucci was my math teacher.
Mrs. Bucci makes it easy for everyone to learn and understand the lesson. She teaches in such a way that satisfies the fast and slow learners, so they both can grasp the concepts of the lesson. First, she teaches the lesson, and then gives out worksheets for everyone to practice. While the fast learners are practicing the material, she forms a smaller study group for the students who do not understand the lesson. She sits at the table with those students like a peer, versus a teacher. She explains it in further detail and helps them step by step to solve the problems in a small group.
Mrs. Bucci is very good at identifying and developing students' strengths. She pushes her students to their limits and then some. During 7th and 8th grade she encouraged almost the entire class to join the math league team. She recognized I was strong in math and encouraged me to join. That year I placed 1st individually for our region, and two out of three of our math league teams qualified for the state tournament. Mrs. Bucci was the best teacher I have ever had, and I wish she could be my teacher every year.
In conclusion, Mrs. Bucci is the Educator of the Year because she makes learning fun. She creates games and group projects that are very entertaining and effective. Her teaching style accommodates for all students in her class. She develops her students' skills and has fun doing it. I will always remember a poster in her classroom that perfectly reflects her ways of teaching "Tell me, I'll forget. Show me, I'll remember. Involve me, I'll understand".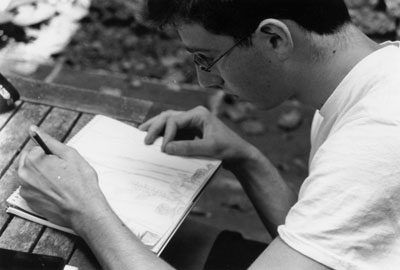 © Kira L., Bethesda, MD