Educator Of The Year (MSgt Kevin Howie)
January 9, 2018
Educator of the Year Essay
There are few people who are perfectly suited to be educators, whether it's an uncanny ability to convey information with passion or a desire to create successful people with successful habits. One of these people is the Senior Naval Science Instructor Master Sergeant (MSgt) Kevin Howie of DMA. MSgt Howie has the ability to motivate anyone in a way like no other. MSgt has a phenomenal character and outstanding core values which he impresses upon his pupils. Finally, MSgt Howie is a mentor like no other; with extreme trustworthiness and an optimistic approach to everything, he sets the example for everyone that comes in contact with him.
A Motivator is a person who can encourage others to partake in an activity with ease. Through moving stories, of tragedy and bravery thousands of miles away in foreign countries, MSgt is able to motivate cadets as he was able to in those settings. One of these stories was set in Iraq during the Gulf War where MSgt and the rest of his squad fought off an enemy attack and came within feet of death. With this military background MSgt is used to having high standards of accountability, and he uses these same standards for cadets. Even a name tag that is askew by the most miniscule measurement will be corrected with intensity. He deals with the small things so that the small things don't become big.
It is said that people of high character are those that who make the right choice even when no one is watching. Though it may not always be simple, some people have unwavering character; MSgt is one of these people. Good character is normally coupled with good moral values, so that can be expected of MSgt; one of these values is forgiveness. When a student acts out of line, they will be reprimanded without fail, but they will also be given a second chance to redeem themselves. This pairs itself nicely with MSgt Howie's optimistic approach to every situation, by always reassuring cadets that there is a way to improve their grade even after a failed test or other similar scenarios.
A Mentor is a person who is held in high regard by someone due to some attribute. A reason that I call MSgt a mentor is because of his astonishing transparency. He leaves nothing up to assumption through genuine accounts of his experiences overseas. Every story is told with pure emotion, and there is no questioning the authenticity of his stories. Whether it's a story of the atrocities of war or a remembrance of a family member's birthday, MSgt is not afraid to be completely open with his cadets in the belief that it will create a bond where the cadet is as comfortable with being open with him. These are all reasons why I call MSgt a mentor.
As you can see, MSgt Howie is more than deserving of the Educator of the Year award. He is able to create and sustain bonds that are stronger than the thickest rope. He is someone who will have you create habits that will only lead to greater success. He is a capable motivator, a person of high standards, and an outstanding mentor to myself and cadets alike. In conclusion, MSgt is deserving of this award because he is someone who will make an impact, and it will last forever.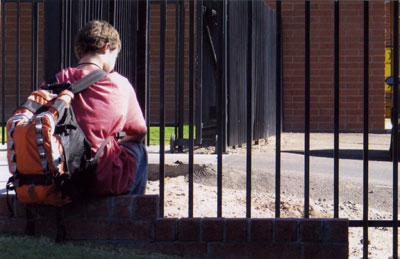 © Molly L., Phoenix, AZ