Educator of the Year: Mrs. Mace
MAG
January 9, 2018
Upon walking into school on my first day of 7th grade, I expected nothing special. I thought perhaps I would be greeted with the same old school routine. However, this was all proved very wrong when I was instead greeted immediately by a short, smiling woman by the name of Mrs. Holly Mace. I found out that she would be my teacher for homeroom and Algebra 1. Little did I know, Mrs. Mace would also become an inspiring, intelligent, and exemplary guide for me. My life took a change for the better every day that I spent with her in and out of class. Mrs. Mace winning the Educator of the Year contest would only be a fraction of the award that she deserves for her amazing teaching abilities.
Anywhere you step inside Brandywine Springs School, you will be sure to find Mrs. Mace. She is the teacher for the 7th grade math curriculum, Algebra 1, and Pre-Algebra. Besides that, Mrs. Mace has also been the assistant coach for track and field, the coach of the 7th grade Math League team, the head teacher for student government, a math tutor for all middle school students, a generous supporter of the school, and overall your "go-to" person for just about anything! If you were to step into Mrs. Mace's classroom, you would be equally impressed with her prowess as a math teacher. She goes out of her way every day to guarantee that all her students are learning interactively at a great pace. Using a variety of different teaching methods and resources, my classmates and I were taught and challenged more than we could have imagined.

The lessons she gave put me ahead in all my math classes and assessments to come; even today, I can still confidently tackle any Algebra 1 problem because of her lessons. However, achieving all this didn't come easily for me. Although I am a good student and reasonably smart, focusing and learning math has always been a struggle. There were several points while taking Algebra 1 where I would hysterically stress because of the advanced material. In these situations, Mrs. Mace used to take me aside in her own time for special instructing and supporting sessions. These helped me to always get back on track and surpass every question, test, or assessment I had. Mrs. Mace was also known to me as "Coach Mace" through the sport of track and field. She would be present at every practice and meet to coach, encourage, and challenge me and the whole team. By the end of my 8th grade year, I was the top district female runner for the 400 and 800 meter race, and I couldn't have accomplished that without her stimulation the whole way.
Mrs. Mace also unknowingly taught me many other valuable things through her admirable character and lifestyle. I found myself taking after her and following her many examples of leadership, organization, service, and efficiency. The best lesson I ever received from Mrs. Mace was to always keep your head up and to keep going, no matter how challenging the path ahead was. I developed into a better student and overall person my 7th grade year, and I still constantly strive to become even more superior since meeting her.

You might have begun reading this essay the same way I had walked into school on the first day of 7th grade – expecting nothing special. However, as I conclude, I hope you have discovered the stupendous teacher that I was fortunate enough to have. Mrs. Mace is notably involved with the school, a supremely intelligent educator, a great role model, and an outstanding human being – and now she is also my ideal nomination for Educator of the Year! I will never forget that first smile she flashed at me, and I will definitely always remember all the lessons and memories I have with Mrs. Mace.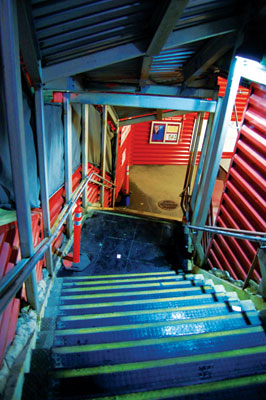 © Karen C., Holbrook, MA