Educator of the Year Award MSgt. Howie
January 15, 2018
You come across many teachers in your life. Some you say you "hate" others are just "okay", and then there is that one teacher that you could never forget. That one teacher for me is my Naval Science instructor, Master Sargent (MSgt) Kevin Howie.

The first time I met MSgt. Howie was at boot camp. He was one of the most intimidating instructors there, in my opinion at least. Of course, he had that stern look on his face that made just about everyone fear him. That fear didn't last long though; once I was in his class for a few weeks, I was no longer fearing him. MSgt. Howie had quickly become everyone's favorite instructor. Yes, he made you do just about every workout you could do before you dropped dead, but he never let you give up. I remember the first Friday of the school year that we had physical training. He was making us do all sorts of exercises, but every time we felt like dropping to the floor and giving up he would always say "Don't give up! Push yourself!". He encourages all of us to never give up and to keep pushing ourselves because we can't get anywhere if we give up before the finish line.

Every class is different and fun even if it's writing down information that we have for a test the following week. One class period he got a stool and sat in the front of the room and just had a normal conversation with us. We talked about everything from relationships to what was happening in the world. That is one of the things that I like most about MSgt. Howie; he is real with what he says. He doesn't mask his words to make what he is saying sound better than it really is. In his words "I'm just going to tell it to you straight."

MSgt. Howie isn't always strict or that teacher that you could never go to. He is the complete opposite. MSgt. Howie is always there for us. He will get everyone else out of the room if he sees that one of his cadets is not okay. MSgt. Howie has always told us that he is there for us, and that we can always come to talk to him and you know that he will listen. He also has a funny side to him. There is never a class period where he doesn't crack a joke. In the beginning most of us didn't get it because we were used to him being very uniform and not cracking a smile, but once you have a few classes with him, you get used to it real fast.

MSgt. Howie encourages, educates, listens, and supports all of us every single day. I have never had a teacher anywhere near as good as MSgt. Howie. He is good at getting through to us and not having us just learn the information but absorb it and use it in life. There is never a time where he is not going to "tell it to you straight." For these reasons and many more, he's my nomination for the Teen Ink Educator of the Year Award.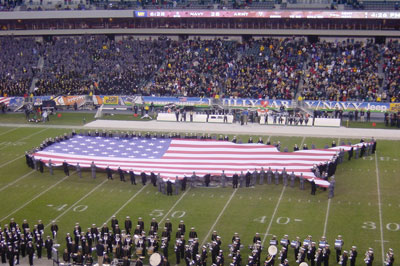 © Kristin B., Middletown, DE