My Favorite Teacher
October 20, 2017
My first through fifth grade teacher for science, Mr. Harland was my favorite teacher and should get educator of the year because if anybody needed help he would go out of his way to help you if you needed help, he really explained ways of teaching whether it was easy or very hard, also he made learning a lot of fun and exciting instead of boring and un involved.

First of all Mr.Harland he went out of his way to help me understand anything I was having trouble on. For example I had trouble understanding how to get a microscope focused and after school that day when he was leaving I asked him and he went all the way back to his classroom and got out a microscope and showed me how to focus it.

Second his way of teaching was exciting, interesting, fun, and understandable. His way of teaching was always interactive so every student would play a part in whatever we were doing whether it was acting it out, writing it on the board, or just sitting at our desks, he made it fun to learn. One of my favorite ways of learning something with him was doing projects, because he gave us the best ideas to build things or make posters of.

In conclusion I think that my first to fifth grade teacher, Mr. Harland, should be teacher of the year because he goes out of his way to help others, he makes learning interactive, fun, and exciting not boring or uninvolved, and his way of teaching was very understandable from a young student's point of view.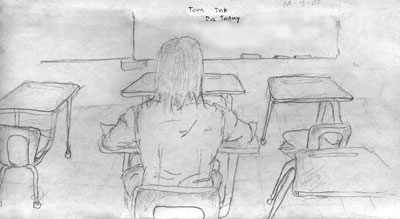 © Christopher M., Dededo, GU