Educator of the Year
May 8, 2017
Although school takes up almost 60% of a teenager's life, I'd rather be outside instead of sitting in a desk for hours on end. My favorite activity consists of a lacrosse stick, a ball and a net. I love engaging in a game of lacrosse with my team on a freshly cut field with my favorite lacrosse coach, Mr. Mayers.

Steve Mayers isn't a teacher that teaches me about the basic subjects, such as math, English, or science. Instead, he teaches me about life and how it can change people. For example, he once told our team a story about wine. He discussed how people pay more money for the wine that lives on the mountain side in harsh conditions, rather than the easy growing wine on flat land. The story rattled in my brain for a minute and he explained how hardship can benefit our lives. He said we are the wine and if we are struggling to survive by living in harsh conditions, we will get a better outcome in the end (because we are becoming more valuable).
Mr. Mayers loves to coach lacrosse, but every once in awhile, he stops practice to tell us a story or share an article with us about how our personality and attitude can transform us into a genuinely good person. This impacts me by explaining how it takes my entire lifetime to become a good person and it's a never ending process.

Mr. Mayers towers around the average man, standing at a lean 6' 2". His favorite worn baseball hat shades a grinning smile, as he welcomes you into a conversation. He is passionate, persistent, and positive. He shows passion for his coaching job and is persistent when it comes to teaching. Even on a cold, rainy day when everyone at practice grumbles miserably, he stays positive with a joke while lifting everyone's spirits. This teaches me to always think positively and to think about how the hard work will pay off.

Mr. Mayers never once said a unkind comment to me; instead, he advances towards the positive of every situation. For example, one game we were losing and I felt it was my fault. I'm the goalie, so I'm the one who lets the ball go in the net. However, Coach Mayers saw the situation from a different point of view. During a timeout, he pulled me aside and pointed to the scoreboard, saying, "You see how close that score is? That's because of you. If you weren't in goal, we wouldn't have a chance. When the other team scores, it's not against you, it's against our whole team. Now get back in there and dominant."

After I heard Coach's pep talk, I felt unstoppable and marched back into goal knowing Coach Mayers believed in me.

Although Mr. Mayers remains determined and serious on the lacrosse field, he shows his friendly side off the field. He tries to develop a healthy relationship with every one of his players. In the beginning of every season, he tells the story about how his daughter tragically died in a car accident. He explains how she is the reason why he still coaches lacrosse. He shares his daughter's story to reach out to his players and attempt to form a bond between them.

He closes the horrible story about his daughter dying by saying, "Since my daughter is gone, I now see you all as my daughters."

When he told me this story, I felt valued and protected. After that day, our friendship grew stronger. After the season ended he asked me about my future goals and pushed me to do my best. Now two years later, we still text and ask each other how life is or go out and get coffee together. While getting coffee, he will ask about college and we will talk about my major (veterinary), and discuss other miscellaneous subjects.

If you want to find me, I'll be outside with a lacrosse stick in my hand alongside my teammates and the best coach ever, Mr. Steve Mayers who is like Superman to me.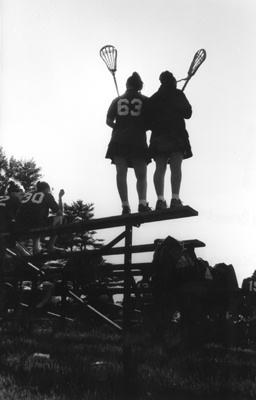 © Hadley B., Marblehead, MA