Educator of the Year Goes to...
May 3, 2017
There wasn't a doubt in my mind whom I would choose for educator of the year. He is a man of many hats: a teacher, a coach (of two sports), a husband, a friend. He is Stephen Bratcher and he teaches Christian Leadership and Apologetics at my high school. As a sophomore, I take Christian Leadership and when I am a Senior, I will take the Apologetics course. I feel I have never thought so deeply, so authentically in a class before. Although he has only been my teacher for less than a semester now, he has taught me many things, inside and outside the classroom. This is the difference between a teacher and an educator of the year--- he teaches beyond the four walls of his classroom. Bratcher has supported me through numerous hard situations I have faced this year, willing to give advice and share his wisdom, which by no circumstances did he have to do. This reveals a much deeper desire than teaching, but leading. He lives out exactly what he teaches in his class.
His passion, his love for teaching is patently reflected in his relationships with his students. When his name is brought up in conversation, there are only good things to be said. Students love to be in his class, to simply be around him. One quickly realizes there is something different about him, something about his passion for life. It is truly impeccable, the way he lives out Jesus Christ day to day. Bratch has strong relationships with his students and even kids he does not teach, which qualifies him as an Educator of the Year.
When students leave his class, it is hard to push all the ideas and theories discussed in his class onto the back burner. You leave in a state of wonder and ponder. You leave with a feeling of admiration for him because in class he will always present something beautiful, something beautiful and unexpected, unfamiliar. One question, one thought, one word. He challenges you to dig deep and think about yourself and about life like you haven't before. He isn't dedicated to teaching us about a subject like Science, but teaching us more about ourselves and about our God. This class is beautiful because everyone brings their stripped-down selves to the table. You truly never know what's coming as you step through his door, and that's the hidden beauty of it. Everything is unexpected, and it is truly exciting.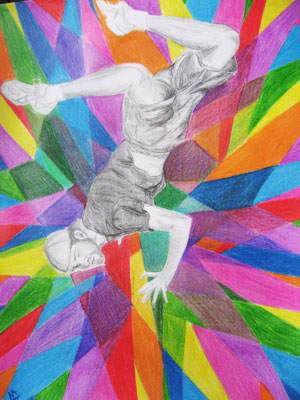 © Carollynn G., Hawthorne, NY