The Teacher That Changed Everything
May 10, 2017
English class sucks. That may not be what you'd expect to read from a writer, but it's true. I hate it. Well, hated it. My feelings towards English changed when I had Modern Literature my junior year of high school taught by Mr. Freeburg.

Modern Literature isn't a common class in most schools, so allow me to explain: in this class, we read five books from modern times and participated in class discussions each day. We finished each book with a paper or project where we, as Mr. Freeburg said, "Just had to write something smart."

I'm no slacker in school, but I do not like to read and I certainly do not like to write, so I was expecting this class to be terrible. But I was pleasantly surprised. After the first day of class, I knew Mr. Freeburg was like no other person I had ever met.

This 11th and 12th grade English teacher is hard to describe because he is so unique. Mr. Freeburg is a blonde teacher who enjoys poetry, but also has a fond taste of Scandinavian Death Metal music. He has a good fashion sense, keeping up with the latest trends, ensuring he looks sharp. And, oh yeah, he loves skateboarding, and he is like a child with a youthful and curious heart.

The first book we read was Mr. Penumbra's 24 Hour Bookstore, a book he selected. This book was about decoding a seemingly impossible code. When we finished reading this book, we were required to write an essay, and then I had a crazy idea. I thought, What if I wrote this essay…in code? To say I was nervous is an understatement. I wrote out my entire essay and then changed it to numbers (A was 1, B was 2, etc.). I then included a key so he could "decode" my essay (I also included the original form underneath, just in case).
I never would have ever done this with any other teacher. Most teachers would be angry that I submitted a paper they couldn't easily read, but I knew Mr. Freeburg is crazy enough to understand. And I was right: he loved it. I got a 100 percent on the paper, and thus began a new standard for me.

I continued to have fun while writing my essays in his class. I ended a presentation with a slide titled "Cornclusion" (instead of conclusion) with a picture of corn, because I figured he would enjoy it. One hundred percent. I submitted a paper with most of the words highlighted in black so only a few were visible, revealing a message hidden within the words of my paper because the book was about art. One hundred percent. The last book we read was originally published in French, so I translated my paper to French before turning it in. One hundred percent. He even left comments to me in French (which I had to translate). I printed out one of his comments, and I still have it in my backpack, and if this doesn't scream unique, then I don't know what does. The comment read, "Free barf bags for children with lizard heads."

Mr. Freeburg turned my least favorite subject into my most enjoyable class. We developed such a bond that he even convinced me to take an AP Literature class next year, just because he is the teacher. I'm not afraid of this class because I know he can teach me to truly succeed in one of my weakest subjects.

Mr. Freeburg also taught me life lessons. His lessons taught me how to live my life to the fullest, how to be the happiest person I can be, and how to care less about what others think.

I am grateful to Mr. Freeburg, for he helped me enjoy a class I originally had no desire to be in. I can assure you that he has had the same effect on numerous kids already. The best part is, he does all of this just by being himself.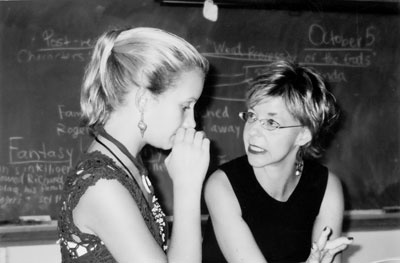 © Olivia L., Pompton Plains, NJ