Educator of the Year Submission: Grace Bielski
May 5, 2017
In situations of teachers, they have to put up with misbehaving students, timing of other classes, and their personal life.  Especially when they have two little kids. Of all the teachers I've met, none of them manage to handle it all as well as Mrs. Bielski.

In eighth grade, my music classes went from decent and fun to basic and unamusing. The music was boring and simple and no one had fun as a result. Even the students who found music to be fun would agree with this. Then freshman year began, and I was unaware that choir was going to be better than ever before.

Mrs. Bielski brough amusement and challenge back into choir and the even in senior year now, it's increasingly challenging and entertaining as time has gone by. The music we sing is entertaining and recently, the difficulty has been dialed to 11 at default. Songs include challenging rhythms at rapid tempos to the point where you miss a beat, you better know how to make a recovery or you're not going to be able to sing the rest of the song!

When she's not teaching Choir, she's running Arrowhead's Broadway Company, a performing arts group. and was one of the two people who pushed me to join four years ago. The flexibility needed to be a student involved is crazy enough. the teacher's perspective, in comparison to a student, has to be insufferable, and most of the time I see her, you  couldn't tell if the stress of managing such a high maintenance group and program was affecting her day until she mentions something. Recently, her youngest child, Sam, broke his arm and today in class she was still carrying on as if nothing had happened.

Mrs. Bielski has proven to be the perfect combination of mother and teacher. She has done plenty to prove her worth, and I have no doubt she will continue to do so.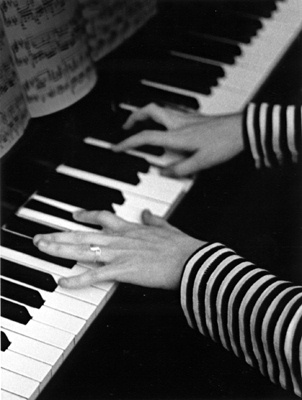 © Paulina A., Marblehead, MA