Educator of the Year
May 5, 2017
It was eighth grade year and third trimester at North Shore Middle School, and I was off to a bad start in Spanish. I was tired of taking Spanish and dropped it to get a study hall instead.
I was placed in Mr. Muehls' study hall with two other girls. It was nice to get a friendly welcome to his class with a "Hey! I know your brother" from Mr. Muehls. I knew he would be a good teacher from what my brother had to say about him. Having time to get help with my homework, instead of having to struggle with it on my own, made a positive difference in my academic performance.
Mr. Muehls created a fun, but calm, work environment in his classroom. I felt as though I could get the help I needed, because there was no other students I had to compete for help with. I did not have to sit there and act as though I knew what was going on. His classroom was my favorite because the room was random, unlike most classes that have the typical posters. He also had chess boards set up in his classroom along with a microwave and ramen noodles (which were supposed to be for chess club but we ate them anyway). He was interested in what I was working on, and that might have been because that was his job, but he always seemed to care. I was never afraid to ask him for help. Mr. Muehls was always wise, caring and helpful. Not only is Mr. Muehls a great teacher, but he is also a father and the chess club advisor.
One of my favorite memories was when the teachers dressed up like Mr. Muehls for a day which, showed how much of an impact he had. Another of my favorite memories, was from a day when none of us had any homework to do so we decided to introduce him to Glozell (who was a popular YouTuber at the time). He thought we were crazy, but I could tell he liked hearing about the things we liked to do, even if he thought they were dumb.
Another thing that made Mr. Muehls a great teacher, is how much my brother liked having him as a teacher. My brother has ADHD and dyslexia which put him in special education. My brother never had an easy time in school or with his special ed teachers until he had Mr. Muehls. My brother genuinely liked Mr. Muehls and he gave my brother a sense of peace and belonging. He even joined chess club (and it was of character for my brother to join a club). 
I would like to thank Mr. Muehls for creating an environment that was easy-going, fun and where not only could I be myself, but my brother could be himself too.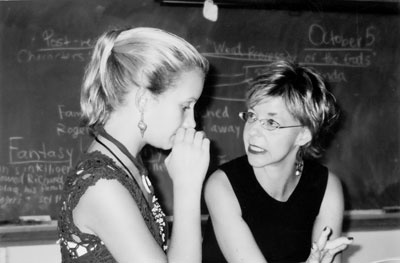 © Olivia L., Pompton Plains, NJ