Educator of the Year
May 5, 2017
With over 100 girls in attendance (all with obnoxiously high pony tails and goggle lines across their foreheads) Coach Mayer, the Varsity Reserve Girls' Lacrosse coach, chose me.

At our first practice, the team sat in a circle as we introduced ourselves by name and grade. Coach Mayer followed, and told a story that was in no terms what we expected. He told us that his daughter died in a fatal car crash...at 19-years-old. Eyes around the circle formed into a blur. He briefly recounted the loss of his daughter, but then focused on how blessed he was to have the opportunity to coach our lacrosse team. Coach Mayer shared with us a personal story that was not only impactful, but also life changing. He helped me to treat every day as if it is my last because the world is an unpredictable place. Coach Mayer was able to connect our team through his personal stories.

He wasn't just another coach. Every practice, he brought a bowl of trail mix, and every practice, I picked through the M&M's. He understood that we were coming to a two hour practice after a seven hour school day, and Coach wanted us to be fueled up. Coach Mayer cared about us beyond the realms of the lacrosse field.

He was like a father figure, constantly reminding us that he was available when we needed him. The practice the night before prom, he told us to be safe and that if anyone needed a ride at any hour, he would only be a call away. Although I was a freshman and didn't attend prom, it was comforting to know my coach would pick up the phone at any hour and be there—and I'm confident the same would go for any other night.

I never had a childhood dream of playing a sport at the collegiate level. But one night after a big win, I received a text from Coach Mayer. He said, "Emily, your performance tonight was college-like play. Your back-to-back goals had the sidelines on their feet." His one text gave me the idea of furthering my lacrosse experience beyond high school.

Never in my years of playing sports had a coach individually texted me. But Coach Mayer taught me that the littlest things people say can go the longest way.

Coach Mayer gave me a step in the right direction. He inspired me to use my strengths to benefit the team. I have never been happier than I am while playing this sport.

Next fall, I will be furthering my education at Northern Michigan University and playing lacrosse. I appreciate Coach Mayer because he helped me find the best in myself. I love this sport and have never looked back, and I have him to thank for that.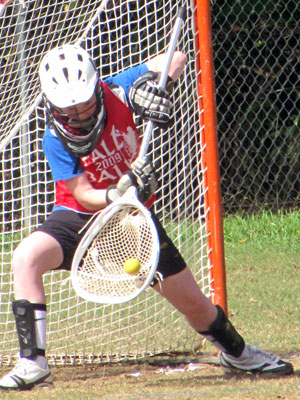 © Ashlyn S., Acworth, GA