Educator of the Year
May 5, 2017
I enjoy a limited number of classes. Engineering and shop classes are among the handful of intriguing classes. I find these classes fun and interesting because they challenge me and allow me to learn in a hands-on environment. One teacher I had in these classes boasts excellent leadership skills, acts as an example for his students, and encourages his students. These traits belong to Mr. Schlitt.
I first met Mr. Schlitt in my sophomore year in my Intro to Engineering and Design class. Mr. Schlitt was not the original teacher for that class, however. The original teacher quit during the first semester which left our class teacherless. Mr. Schlitt willingly stepped in and taught the class for the rest of the semester. I respect Mr. Schlitt for this act of self-sacrifice.

The next year, I took Engineering and Mechanics which Mr. Schlitt co-taught with another teacher. In this class, I saw Mr. Schlitt's passion for engineering. His passion is a cup overflowing with excitement, and this excitement spills onto his students.

When we learned about truss calculations, he walked us through the lesson with a smile. Enthusiasm radiated from him as he taught. I could tell that he felt a sense of accomplishment as a teacher when his students succeeded in his class. When I saw how passionate Mr. Schlitt was about engineering, I began developing a passion for engineering as well.

This year, I am enrolled in Mr. Schlitt's cabinetmaking class. This has been my favorite woods class for multiple reasons. One of those is because Mr. Schlitt is my teacher. In this class, I have seen his leadership. Mr. Schlitt helps guide all of his students in their specific projects. He also leads his students in maintaining the shop. He directs us in stack lumber, moving and maintaining equipment, and in cleaning up the shop after class.

Mr. Schlitt's voice is like a bullhorn. At the end of every class, when we have clean up the shop, he always yells, "Alright guys, it's time to CLEAN UP!" I'm always impressed by it because he's able to yell over the noise of the all of the equipment. The students do as instructed, for the most part, because they respect Mr. Schlitt and his leadership.

I'm thankful for Mr. Schlitt. His passion, enthusiasm, and leadership inspire me. Mr. Schlitt's classes helped develop my passion for a career in engineering and helped me enjoy school the past three years. Thank you, Mr. Schlitt for all you have done for me.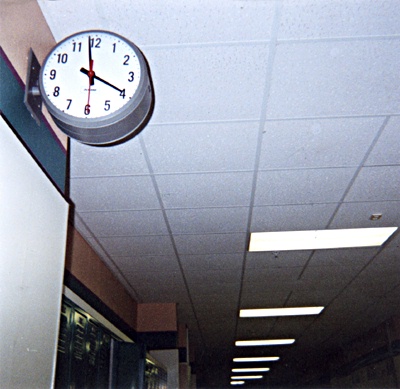 © Blake B., Highland Village, TX