Paul Brester
May 5, 2017
"Excuse me, Mr. Brester Sir, I have a question."

This is a frequent statement heard shouted in class, said in both seriousness and in humor. Mr. Brester's accounting class if full of laughter, learning, and growing—oh and singing along to a variety of music too.
Walking into Mr. Brester's class third hour at Arrowhead Union High School, there is never a lack of enthusiasm or drive. Every day, Mr. Brester wants his students to succeed while enjoying accounting. He is an engaged teacher interested in both his students school and life. He works to make his students feel important. He makes an effort to hear about everyone's day, and adds in a twist of a joke like, "Ohh have you been fired yet" or "What happened in that golf round?" His sarcastic jokes add lightness to the class. His humor is like a river, it just flows right off his tongue. It's odd humor, but yet it still gets us all to laugh.

Next year, I am attending the University of Minnesota Twin Cities, so now Mr. Brester loves to point out Madison's successes over the Gophers, and test me on my Minnesota knowledge to poke some fun. And though he is making jokes, I know it is just for fun and that he is proud of all of his students.

Every morning, he starts class by showing his interest in his students by asking about their weekend, or sports, or other activities he would want to know about. This small act of engagement shows his students that they have value and that he cares about each one of them. He is truly interested in his students and he is a good listener.
After all this fun and talking, though, he becomes a serious and dedicated teacher. He has a passion for accounting and teaching his students so they fully understand the content and become passionate themselves. Because of Mr. Brester's class, I have decided to study accounting at the University of Minnesota.

Between the laughing, song singing, and learning, Mr. Brester encompases the best aspects of a teacher. Students leave his class feeling appreciated, listened to, and also smarter. Thank you, Mr. Brester, for introducing me to accounting and for being a great teacher.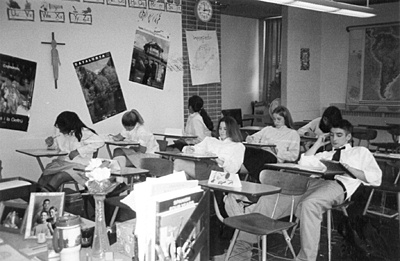 © Fox V., Whitesboro, NY