Enjoy Physics
May 5, 2017
My high school science career at Arrowhead High school reached a close, and my past experiences in the department reflected my joy for the final stretch. I reluctantly arrived at my first day of senior year, and I heard, "alright folks, enjoy physics" without realizing this phrase showed up almost daily throughout the semester. Mr. Tschanz, a physics teacher, husband and dad to two girls, showed nothing but joy for his profession.

In 9 out of 10 of my classes, I stayed to myself. But not in my senior year physics class. In that class, Mr. Tschanz asked "how was your weekend Saige?" and at the end of class pronounced "Make sure you go outside and get some vitamin D" if the sun showed through the cloudy Wisconsin weather. These little things made his students and me feel at home.

The amount of questions I asked in his class was obscene, but I continued asking questions because I knew Mr. Tschanz answered them no matter what. My hand impatiently raised straight up like a skyscraper for half of the class is a pain deal with. However, In Mr. Tschanz's class, no question is a stupid question. In every situation, Mr. Tschanz's patience prevailed.

Being a high school senior comes with more responsibilities than just school. For example, I applied for a scholarship I did not expect to receive. This scholarship required two teachers to fill out a form about my behavior and performance. Because Mr. Tschanz was my favorite teacher, I asked him to do the form for me. Now Mr. Tschanz did not just fill out this short form, he wrote me a page-length letter of recommendation. The smile across my face while reading that letter could not have been bigger.

This extra time and effort he put into making this extremely kind letter is what gave me the extra push on this scholarship and I recently found out that I received it. Any amount of financial help going into college is tremendous for my family because we struggle. I have no doubt that Mr. Tschanz was a big reason for my winnings, and I am forever grateful for that.

I successfully completed lab challenges involving springs, pendulums, shuffle boards, and motorized carts. My level of anxiety on a lab challenge day overwhelmed me, but Mr. Tschanz makes sure his students came prepared for the challenge ahead.

The feeling of successfully measuring the placement of a cart in order for a ball to land in it gave me much joy. Whenever a student completes one of the labs, Mr. Tschanz's excitement is like my dad when he found out I received the scholarship. I successfully completed this class because of Mr. Tschanz's quirky attitude and bubbly personality.

If something sophisticated happens to fall out of a student's mouth, Mr. Tschanz will follow it up with a loud and exciting, "Oh yes!" and then proceed to bounce on over to the board. This excitement and joy cannot be topped, and as a "folk" in his class, I learned to "enjoy physics."

Throughout the lab challenges, constant excitement and complete understanding for his students, I have learned to branch out and be myself in that classroom. Thank you, Mr. Tschanz, for allowing me to feel at home in school.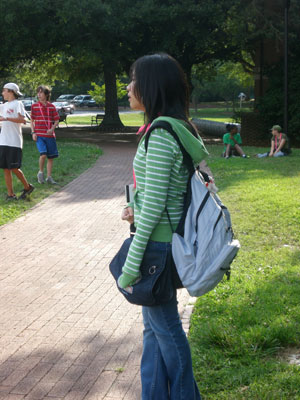 © Lucienne B., Parkland, FL