My Favorite Educator
May 5, 2017
Small, peppy, energetic, and eager. Though those may not be the first three words that you think of when thinking of your favorite educator, they are for me. Mrs. Markano uses her high spirits and over the top energy to make everyone feel included, and to give everyone a place at this 2,400 student school.

Mrs. Markano is a theater and speech teacher at Arrowhead High School, though that is not how she impacted my life. Mrs. Markano is in charge of the Stage Crew and Drama Department at Arrowhead.

I attended my first Stage Crew meeting in the middle of my freshman year. I sat in the back of her classroom and thought, Who is this talkative, tiny, amazing woman? She explained the schedule for the rest of the year, and then quickly ran off. As I look back on freshman year, my biggest regret was not participating in Stage Crew.
Sophomore year, I decided to work on her shows. I took part in Markano's first show of the year. She directs it, and dedicates all her time to it. I had a small role to play in this production, but Mrs. Markano made it feel as if she prioritized my comfort and importance. So I managed my first show, Julius Caesar.

At the end of shows, Mrs. Markano writes a handwritten letter to everyone who participated in putting on her production, from the light board operator to the extra who is in one scene.

That year, she wrote this to me: "So excited to see what the next two and a half years holds and so happy you are a big part of that future!" As I read these words I felt honored, as if things were starting to make sense in this grand school of ours.

My sophomore year, I also participated in Makin' It, another one of Mrs. Markano's shows.

At the end of this production, she encouraged me to Stage Manage my own show. I called the light cues, supervised the running crew, and made sure no one had a mental breakdown. That is exactly what I did at the beginning of my junior year. So when sophmore year ended, Mrs. Makano eagerly offered me the position as her Stage Manager for her first show.

Mrs. Markano is like your mother, or the one you wished you had. She appreciates your thoughts, tells you when you're making a mistake, and worries about you when you're missing.

Working with such a talented, kind-hearted, and inspiring person is the reason why I choose to participate in Stage Crew, and why I plan to continue to participating for the rest of my highschool career. So thank you, Mrs. Markano, for making school fun and for introducing me to the people I now call best friends and role models.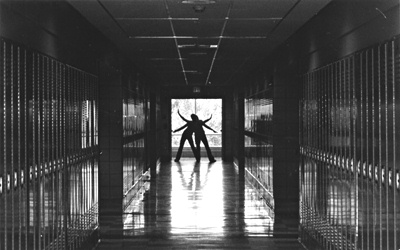 © Sheera G., Marblehead, MA